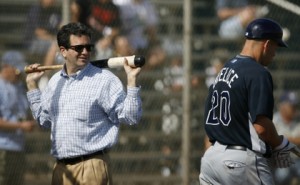 A couple if interesting tidbits from Stuart Sternberg via Marc Topkin…
Sternberg is surprised  at "the speed in which the other front offices have changed their game plans a little bit has forced us to try to stay one step ahead or even in lockstep with them." Specifically Sternberg is referring to game plans that look a lot like the one the Rays started several years ago.
Sternberg is puzzled by the lack of unity between Tampa and St. Pete. It is safe to assume that he is referring to the need for a new stadium.
Sternberg says he doesn't have the money to build a new stadium himself.
Now on to the regular webtopia.
DEVIL DOGS WEBTOPIA…
Likes

(

0

)
Dislikes

(

0

)