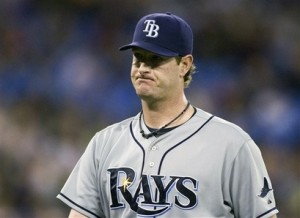 The GBT – The Good, The Bad and The Telling sandwich, where The Bad is nice and lean and the The Telling is ripe.
THE GOOD: Carl Crawford. That's it. His solo home run was the only bright spot on the day.
THE BAD: Getaway Blues. In their last 16 road series, the Rays are now 4-12 in the final game of the series. They are 20-18 in all other road games...Pat Burrell. The Rays could only manage to get more than one runner on base in an inning twice, in the first and the sixth. The common theme in those two innings was Pat Burrell. In the first he ended the inning with a groundball back to the pitcher and the sixth he ended the inning by striking out…Offensive. In between the first and sixth innings, the Rays managed only 1 baserunner, an Evan Longoria leadoff walk in the fourth. He was quickly erased on a Ben Zobrist double-play.
THE TELLING: Carlos Pena was 6th in the lineup again…The Rays are now third in the AL in scoring after leading for most of the first-half.
DEVIL DOGS WEBTOPIA…
Brian Shouse is expected to be activated today with Dale Thayer sent back to Durham. [Tampa Tribune]
Wow. Apparently plenty of tickets are still available for the Yankees series. That's not good. [St. Pete Times]
Several of the Rays talk about how big the upcoming stretch of games is, however Joe Maddon says it is too soon to call it "make or break." [St. Pete Times]
Joe Henderson says if the Rays are going to make a move in the East, now would be a good time. [Tampa Tribune]
Add the Dodgers to the Cliff Lee and Victor Martinez mix. [Fox Sports]
Her Rays offers some notes to a few Rays. [Her Rays!]
TampaBayRaysFan.com has a new look. [Tampa Bay Rays Fan]
Likes

(

0

)
Dislikes

(

0

)