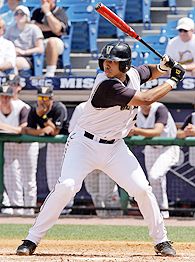 Tampa Bay Devil Dogs (5 days until pitchers and catchers report)
Baseball America names their preseason college All-Americans. The list includes Vanderbilt's third baseman Pedro Alvarez.

Alvarez has been a first-team All-American and the top hitter on Team USA in each of his first two seasons, and his bat speed and strength make him the best hitter for both average and power in college baseball. His range is limited and his hands are average at best, but he has worked hard on his defense and has enough arm strength for the hot corner.

"He's the best position player in the draft," a front-office executive said. "He can hit and he can stay at third base. He stacks up with Evan Longoria and Alex Gordon, who got put in that same category. He's a better hitter than we had last year, when the top guys were Matt Wieters and Matt LaPorta."
Alvarez is odds-on choice to be the top overall selection in the June draft by the Rays. A third baseman, but many feel he can transition to first base quite well. Hmmmm?
June, 2008: Drafted.
July, 2008: Debut at Hudson Valley with a late call-up to Columbus.
2009: Spend season in Vero Beach and Montgomery.
2010: Promoted to Durham for the first half of the year. 2010 also happens to be the last year of

Carlos Pena's

extension. Pena traded prior to July 31. Alvarez makes his debut in September, 2010.
Anyone think this scenario crossed their minds when they decided to give Pena a three-year deal?
2008 Preseason College All-Americans [Baseball America]
DEVIL RAYS WEBTOPIA…
Catcher

Matt Spring

has been invited to Spring Training. The Rays' 4th round pick in 2004, Spring split time between Columbus and Montgomery, logging only 59 games, batting a combined .186-7-29. Don't read too much into this. Teams have like 23 kazillion pitchers on hand when camp first starts, and those pitchers need catchers to throw to. Spring is a filler. [Riverwalk Talk]

Ian Browne wonders if another team in the AL East can challenge the Red Sox or the Yankees. Now that the O's have traded

Erik Bedard

, and

not

Peter Angelos

, I would think it is safe to rule them out. [MLB]
"Yes, we're young. And we have lacked some experience. But now we've gained some experience over the past two years. Now is the time to start making this thing work a little bit. So I love the American League East. I wouldn't want to play anywhere else."-Joe Maddon
Yahoo! Sports

ranks the AL catchers. 14 catchers,

Dioner Navarro

comes in 13th. [Yahoo! Sports]
Navarro throws well but is only an average receiver. Conditioning is always an issue for him. He hit only .227 with a .286 on-base percentage last season.
DRays Bay

updates their roster odds. [DRays Bay]
376 days until Rays pitchers and catchers report to their new 2009 Spring Training home at Charlotte Sports Park. [Charlotte Sun-Herald]
Likes

(

0

)
Dislikes

(

0

)