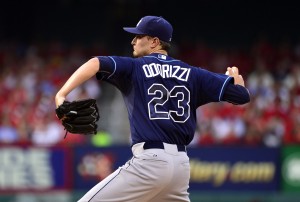 There are four days left until the (non-waiver) trade deadline and despite all the chatter surrounding the Rays and their starting pitchers, a few teams feel like the Rays are leaning towards holding on to those pitchers for now.
Jerry Crasnick of ESPN spoke with "several teams" that have had trade talks with the Rays and reports that those teams don't feel confident that they can get a deal done.
"Several teams that have had conversations with the Rays have concluded they're perfectly willing — and leaning toward — hanging on to their big assets and waiting to act during the winter, when they can engage with 29 MLB teams rather than a handful making playoff pushes."
While none of the Rays pitchers are pending free agents and the Rays don't have to make a deal, the one thing that has been pushing the Rays to deal is that it has been a seller's market with few starting pitchers available and a lot of teams still in the playoff hunt. But as we speculated a couple of weeks ago when we thought it would be better to deal earlier, rather than later, some more starting pitchers have hit the market.
At this point, it may be in the Rays' best interest to wait until the offseason when more teams can get involved and there is little mystery in how deep the starting pitcher market will be (not very).
Of course, this could very well just be posturing by the Rays. Most of the reports we have heard involving the starting pitchers say that the Rays and other teams have reached a bit of an impasse and each side it waiting for the other to blink. If the Rays are going to get the other team to overpay, it would help to make sure those teams know that the Rays won't have a problem holding on to their assets. The worry there though is that you look too complacent and teams just give up and stop trying.
Still, the Rays know what they want. And it is their M.O. that if teams don't pony up, the Rays will walk away.
Likes

(

4

)
Dislikes

(

0

)