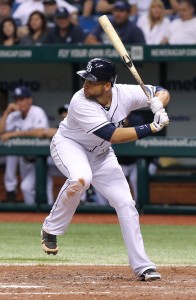 The Rays released one veteran today and made a second move that will likely lead to the release of another. The two moves together will not only be costly, but it shows a fundamental shift in the way the team thinks.
First comes news that the Rays have released catcher Rene Rivera, according to Marc Topkin. Rivera was set to make $1.7 million this season. However, since it was an arbitration contract, the Rays will only owe him about one-fourth of that, or about $500,000.
The second move was the report that the Rays have informed James Loney that he will not make the opening day roster (also via Topkin). We already knew the Rays have been desperately trying to move him with Logan Morrison set to be the starting first baseman against right-handed pitchers. While there is still a chance the Rays could swing a deal…
Loney said #Rays told him he would either be traded or released

— Marc Topkin (@TBTimes_Rays) March 30, 2016
…it almost certainly won't happen now as teams will just wait for his eventual release.
Loney was set to make $8.0 million this year in the final season of his 3-year, $21 million contract. Barring something shocking, the Rays are going to have to pay every penny of that, meaning the Rays are on the hook for about $8.5 million for these two players.
But let's ignore for a moment how costly it is for a team with a payroll under $70 million to swallow nearly $9 million in salaries. The two moves are also a very telling sign into the current direction of the team.
For the most part, Rivera and Loney are still the same players the Rays valued when they were acquired. That is, they are outstanding defensively with sub-par bats. By cutting both players, the Rays are finally admitting that there is only so far a team can go with good pitching and defense, and that eventually, you need to score runs.
We already saw the team add several bat-first players this offseason, so we knew the tide had shifted a little bit. But now it is clear, this team will no longer tolerate players who are a detriment with the bat even if they have a good glove. That doesn't mean the Rays are abandoning good defense. Quite the contrary. The Rays are still placing a premium on playing good defense with players like Kevin Kiermaier and Evan Longoria. But if they have to choose between a good bat and a good glove, these moves, along with the addition of players like shortstop Brad Miller, shows that the team will now err on the side of good offense.
If anything, the team is now treating defense much like they treat the bullpen. That is, they look for players with potential (Miller and Morrison have both shown flashes of good defense), add in some top-level coaching, and hope they can either maximize the potential where other teams have failed or catch lightning in a bottle for a season or two.
In other words, these are no longer the Andrew Friedman Rays and things just got very interesting.
Likes

(

5

)
Dislikes

(

1

)