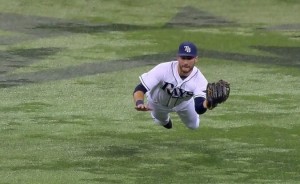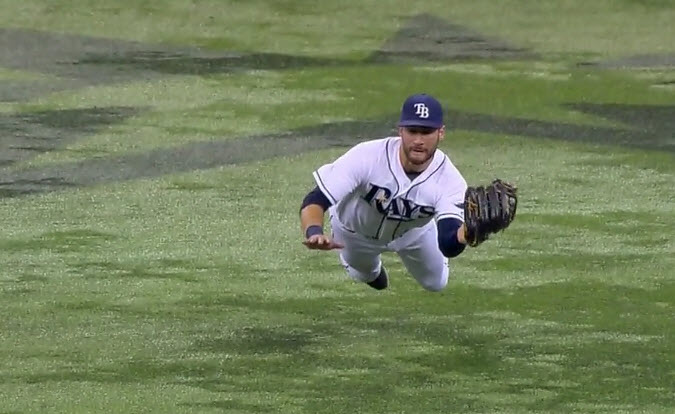 Kevin Kiermaier announced his presence with authority in 2015, winning his first Gold Glove as the best defensive center fielder in the AL and the Platinum Glove as the best defensive player overall in the AL.
Kiermaier's greatness with the glove is no secret to Rays fans. He makes tough catches look easy, and despite some early struggles with his throws, he was able to overcome that and record 15 outfield assists on throws that reached 100 MPH.
But how good is Kiermaier really? Well, he is so good that Buster Olney is giving him the highest of praise, comparing what Kiermaier does with the glove to what Babe Ruth did with the bat.
Keep in mind that Kiermaier is not crazy, and that he is the Babe Ruth of defense, in how his production with the glove differentiates him from every other major leaguer. Stuff that he imagines — crazy scenarios — tend to come true, and this particular apparition nags at him.
What Olney is referring to is the stat Defensive Runs Saved. Kiermaier was deemed to have saved the Rays 42 runs with his glove and arm alone in 2015, according to Baseball Info Solutions. That is the highest total they have ever recorded since they started tracking the stat in 2003 and it was 17 more than the second-best defender in 2015.
In other words, according to that stat, Kiermiaer is 68% better than any other defender. For comparison, when Ruth set the record in 1920 with 54 home runs, that was 184% more than the second-highest total that year (19).
There is some feeling that defensive metrics are tough to gauge in a single season and that it takes 2-3 years to get a true measure of how good a player is. But this is a pretty good start for Kiermaier.
As for the rest of Olney's column, it is well-worth your time as Kiermaier discusses how he visualizes great defensive plays, not as a means of daydreaming, but rather as a means of preparation.
Likes

(

1

)
Dislikes

(

0

)