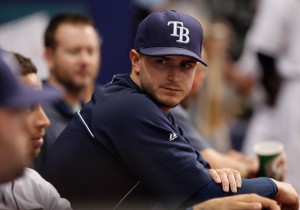 Jake Odorizzi was a guest on MLB Network's "High Heat" on Friday and, of course, attendance was brought up when he was asked how tough it is to play in front of such small crowds when the team is playing well.
Instead of whining about how hard it is to make so much money and stay motivated to play a sport in front of only 15,000, something we have heard from players in the past, Odorizzi had a refreshing take on the subject.
"For us, it is nothing that we can control. I mean, we can't do anything about coaxing people to come to the game. We're happy for all the people who do come and we want to put on a good show. Because you don't know, what if we do get 14,000 a game? It could be some one person's first time at a ball game out of that 14,000. So, we want to go out there and do our best for whoever is in the stands, where we try our best regardless. It would be great if we got more people. But at the same time, we are thankful for the people that we have. And we just go out there and play our game regardless of how many people are attending."
This is not the first time a Rays player has uttered similar sentiments and Odorizzi does admit that it would be better if there were more fans. But did you catch the subtle, but key difference? Odorizzi doesn't start his answer with wishing for more fans. Rather, he starts with the simple notion of respecting the fans who do show up.
In the past, players have taken the opposite approach and often there was a considerable amount of time between the two points with the standard formula having been: 1) "the crowd is disappointing"; followed the next day by 2) "but we do appreciate the fans who do show up."
Maybe Odorizzi just gets it. Or maybe the Rays are getting better about making sure the players don't say the wrong thing. But it is nice to hear.
Likes

(

6

)
Dislikes

(

0

)