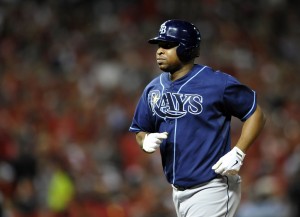 Welp, Former Rays outfielder Delmon Young is once again in the news for all the wrong reasons.
According to Local 10 in Miami, Delmon Young was arrested on Sunday night after he allegedly choked and threatened to kill a valet attendant. To make matters worse, Young is also accused of making statements that suggest his attack was racially motivated.
Here are the details from the police report:
According to a Miami police report, Young grabbed valet attendant Javier De La Vega by his neck and started to choke him after the attendant refused to let him into an elevator to a club at the Brickell hotel.
De La Vega told Young that the club was closed, but Young became irate and said, "Stupid Cuban. Open the (expletive) door. I'm here. Now what?" the report said.
Young walked away, but returned moments later, demanding that De La Vega open the door.
After De La Vega repeated that the club was closed, Young told him, "I'm gonna (expletive) kill you, you Latin piece of (expletive)," the report said.
After Young left, police went to his condo where they found him naked from the waist down and "was unsteady on his feet and spoke with slurred speech," according to the police report.
Young then allegedly said to one of the officers, "I'll slap you in the face with money, you (expletive) Cuban."
Of course, this is not Young's first incident with police that involved racial comments. In 2012, Young was accused of an anti-Semitic attack. He was later found guilty of harassment and sentenced to community service. The victim later sued Young for $10 million.
Young, who was the first pick in the MLB Draft by the Rays in 2003, played two seasons with the Rays before being traded to the Twins for Matt Garza and Jason Bartlett. Young returned to the Rays in 2013 for the final two months of the season. He played for the Orioles last season.
Likes

(

0

)
Dislikes

(

0

)