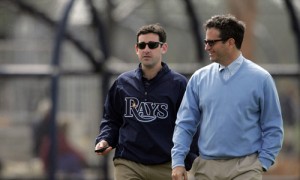 The Rays have already made three trades this off-season and rumors abound that they are willing to make more. But despite that eagerness to make another blockbuster deal, the Rays may have to wait.
The latest rumors suggest the Rays are willing to move relievers Jake McGee and/or Brad Boxberger, and at least one more starting pitcher, possibly Alex Cobb, who is recovering from Tommy John surgery.
However, according to Rays consigliere Ken Rosenthal, other teams may not be ready to make a deal with the Rays, especially for a starting pitcher, even though he refers to the Rays as "the most open-minded" to trading a top-of-the-rotation starting pitcher.
The Rays, even after trading righty Nathan Karns, offer three starters with the potential to be No. 2s — righty Jake Odorizzi and lefties Drew Smyly and Matt Moore. They also can move Alex Cobb, who likely will miss much of the season after undergoing Tommy John surgery last May, but is under club control at affordable salaries for the next two years.
Rays relievers Jake McGee and Brad Boxberger also are available, and trade talk is intensifying around McGee, FOX Sports' Jon Paul Morosi reported on Friday. It might take longer to trade a starter — the Rays, like the Rockies with their hitters, might need to wait for the free-agent market to settle, and pitchers such as Johnny Cueto and Mike Leake to come off the board.
The good news is that we should start seeing more action soon. Most of the top free agent starting pitchers are now off the market with David Price, Zack Greinke, and Johnny Cueto all signing big deals. The teams that lost out on the bidding in each of those cases will soon start to work on their Plan Bs and the Rays will be one of the first teams they will call.
The Calculated Gambler, Matt Silverman, has proven to be more aggressive in the trade market than his predecessor, Andrew Friedman, who stuck to his offers until other teams either relented or left the table.
So, after already trading Nathan Karns and two others for Brad Miller, Logan Morrison and a pitcher, cash for Hank Conger, and Kirby Yates for cash, it looks like those were just the appetizers for Silverman's big overhaul. The big moves are yet to come.
Likes

(

0

)
Dislikes

(

0

)