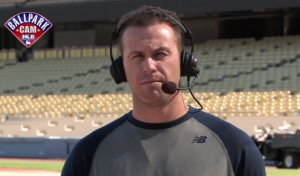 Evan Longoria was a guest on ESPN Radio's "Mike & Mike" show on Friday for a segment in which he was asked to pick the winners of some upcoming NFL games. But before that, Longo was asked about the MLB playoffs.
Longoria was asked if he had any insight into why the first four playoff games had all been won by the road team. After babbling on a bit about how the Rays tend to play better on the road in the playoffs in recent years and in the regular season this year — OK, a little bit of a stretch to compare home regular season game for the Rays to the first playoff game in Toronto in 23 years, but let's go with it — Longo dropped this little nugget:
"I don't know. I'll be honest with you. I haven't really watched one inning of the postseason … I was at the Lightning home opener last night, so I chose the NHL over watching playoff baseball last night. I enjoy playing the game a lot more than I do watching the game, let's just say that."
This is not an unusual stance. Many of us, if we had to work a job six days a week for 7-8 months, with half those days spent away from home, the last thing you would want to do is go home and watch that job on television. Of course, baseball is different, but players often need that detachment.
Still, it is a little interesting that Longo didn't say he needed a break. He is pretty much just saying he doesn't enjoy watching the sport. That is pretty damning for an industry that always gets skewered this time of the year when their national TV ratings struggle. If those who supposedly love the sport the most and make the most money don't enjoy watching the sport, why should the casual sports fans?
Likes

(

0

)
Dislikes

(

0

)