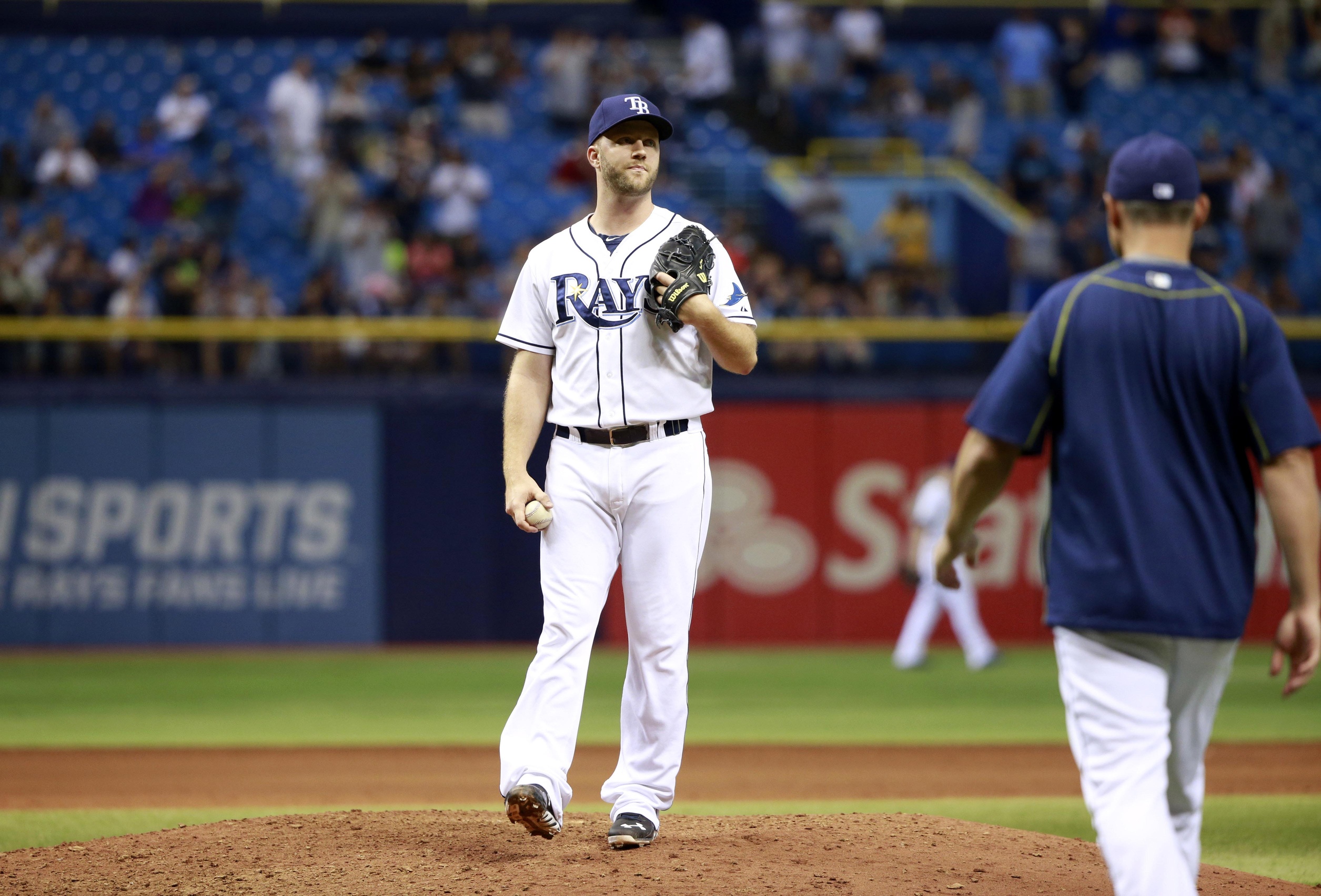 Brad Boxberger was great in 2014, posting a 2.37 ERA in a breakout season. He hasn't been great this season at times, especially recently, and he is blaming his struggles on how much he has been used.
While Boxberger doesn't call out manager Kevin Cash by name, he might as well. In an interview with Marc Topkin of the Tampa Bay Times, Boxberger doesn't sound happy.
"[My struggles] could all be attributed to the use of me," Boxberger told Topkin. "There's no set 'closer' here, but I don't know of another team that doesn't call it a 'closer' and has 34 saves. So all of the early use in non-closing situations has probably put a toll onto the recent outings, I guess you can say … You just look at other closers around the league that have even 25-plus saves, and I can probably guarantee none of them have thrown in the seventh inning this year and not many have probably thrown multiple games tied on the road and all that. So those innings add up and those appearances add up. And it is what it is this year."
What is curious is that Boxberger is probably not going to be used much more this year than he was last year.
2014 innings pitched: 64.2
2015 innings pitched: 56.2
The issue is even more perplexing if we look at how Boxberger has been used this year, compared to last season. Boxberger was used all over the place last year and much less so this year, and yet, last year it wasn't a problem.
So then what is the real issue? Is it a sense of entitlement, that Boxberger feels he is too good to be used in non-save situations? Maybe. But there is also the money issue.
Boxberger is going to hit his first big pay day after the 2016 season when he will be arbitration-eligible for the first time and he will make more money as a "closer" than he will as a "reliever who occasionally closes games."
There is also the injury issue and making sure he stays healthy for that pay day, a point discussed by Topkin.
"Boxberger went on to suggest there are further ramifications of 'the use in general,' noting, without naming names, injuries to current Rays relievers and that he has heard of pitchers who left the Rays and were struggling elsewhere or even had to have surgeries."
Boxberger is represented by Scott Boras and it is possible that the super-agent is pushing the buttons here, urging Boxberger to be more vocal. But this is an unsual situation not often seen with the Rays, a player publicly voicing displeasure with something, anything (other than the attendance of course). So it will be interesting to see how this develops.
Likes

(

1

)
Dislikes

(

1

)