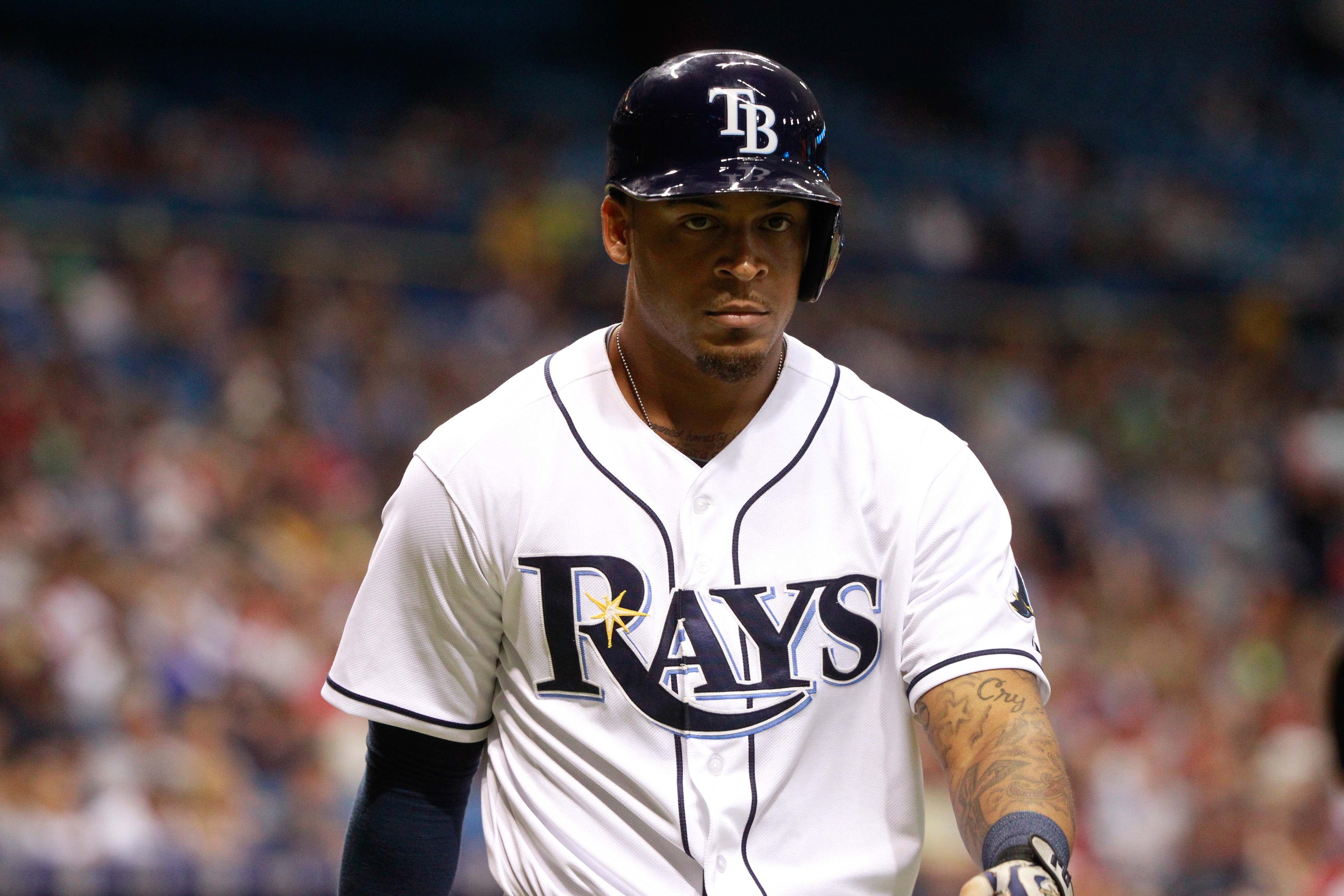 Desmond Jennings is back on the DL. If you had 10 games in the pool for when Jennings would end up back on the DL, you win!
If Jennings misses the rest of the season, this now means that over a stretch of 190 games, dating back to last September, Jennings will have missed 162 games and played in 28.
Most of us are not medical doctors and maybe it is just a coincidence, but it is hard not to see how fragile Jennings has become and not wonder if it is related to his decision to bulk up and add more muscle.
Prior to the 2014 season, Jennings added size to his frame in hopes of adding power to his already strong baseball skill set (via MLB.com):
"Desmond Jennings arrived to camp looking more like a strong safety heading to the NFL Scouting Combine than the Rays' center fielder … While Jennings has added quality weight to his 6-foot-2 frame, he won't fess up to how much he's added. Suffice it to say, he looks 15 to 20 pounds heavier."
Not only did Jennings not start hitting more home runs, he has actually been hitting home runs less often. On top of that, his speed has gone down.
So he bulked up. The injuries go up. The missed games go up. The power and speed went down. Coincidence?
During those same time periods (2011-13 and 2014-15), Jennings' OPS+ (100=Average) has fallen from 107 to a below-average 97.
Former manager Joe Maddon was actually a bit prophetic with his comments at the time which suggested he was worried about the impact of the added size.
"The biggest thing is you want to make sure his legs are good, so that the speed stays," said Maddon in 2014. "[He already had] this incredible power. He's hit some of the longest home runs we've had … Frequency of power is different than just power. For me, the greater power would be when he sees his pitch, to not foul it off or take it. Hit it fair, hard somewhere. He's capable of hitting more homers. When he puts his A hack on something, it really goes."
It sure sounds like Maddon was not thrilled with the added muscle at the time and now Jennings' career is in danger.
Is this latest injury (he banged his surgically-repaired knee into a base while sliding) career-threatening? No. But it may be career-defining and that could be nearly as dangerous for his career.
Jennings is making $3.1 million this season as the first of three seasons in which he is arbitration eligible. Even with an injury-riddled season, Jennings is going to be in line for a raise, to say $5 million. That's a bit much for a player that is a shell of his former self and may or may not stay on the field, but it is at least affordable. So the Rays can give Jennings one more season to turn things around.
But what about the 2017 season? If Jennings doesn't finally have that breakout season we have salivated for and let's say he misses another 50+ games on the DL, are the Rays going to give him $7-8 million in 2017? Unlikely.
In other words, next season is do or die for Jennings. If he doesn't stay healthy and produce — and there is nothing to suggest he will — Jennings will then enter Delmon Young territory. He will start to bounce around from team to team as other GMs see the potential and hope for the best. He may even put together a solid year or two. But any hopes of him ever becoming a superstar in this league will be gone.
Likes

(

0

)
Dislikes

(

0

)