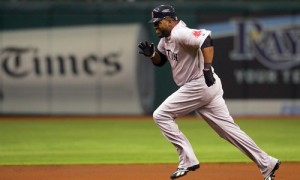 Chris Archer and David Ortiz have had a bit of a rivalry over the last year or so built around David Ortiz' LOOK AT ME, DAMNIT! routine and Archer's occasional spontaneous acts of celebration.
Well, after their most recent matchup on the field, Ortiz did something unexpected, saying something nice about Archer and seemingly putting an end to their back-and-forth bickering (via the Boston Herald).
"He's a good kid. He's a guy that, he has worked his way up to where he is right now. I'm happy for him. I'm not going to lie to you: I saw that coming. I knew he was going to come to be the stud that he is right now as a pitcher. And I turn the page. Whatever's in the past is in the past."
Awwwww, Kumbaya, Brother David. That's sweet.
Likes

(

0

)
Dislikes

(

0

)