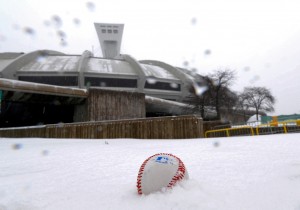 Montreal Mayor Denis Coderre is planning to meet with MLB Commissioner Rob Manfred about bringing baseball back to the city according to CBC Sports.
The meeting should be of little concern to fans of the Tampa Bay Rays, a team often associated as a potential relocation target, as the meeting was requested by Coderre and not Manfred after the commissioner said earlier that he would be willing to meet.
More importantly, the mayor admits that he will travel to New York for the meeting without a plan on how to bring a team back to Montreal which means the city is no closer to building a new stadium and probably still has no idea how to finance one.
"We need a plan, we need a step-by-step approach," Coderre told the Canadian Press. "You don't pull the flower to make it grow faster."
You also don't move a flower from Florida to Montreal to make it grow faster, but I digress.
Manfred has repeatedly said MLB could end up back in Montreal, but only if they get the "right facility" (i.e. a new stadium).
There is evidence the Rays have at least passively looked at the Montreal market as a potential home even if Stuart Sternberg has said he would sell the team before he would move it. However, if this is a race between Tampa/St. Pete and Montreal to build a new stadium, the Bay Area is the tortoise and Montreal is the blind hare with no legs.
Likes

(

1

)
Dislikes

(

0

)