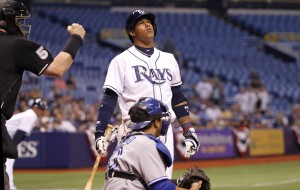 In the past month and a half Yunel Escobar has been traded twice, has been forced to switch positions, and he wasn't happy about any of it.
Escobar was "upset" about being traded by the Rays to the Oakland A's as part of the Ben Zobrist deal according to James Wagner of The Washington Post. Escobar was not happy because he "loved playing" for the Rays.
Escobar's comments come despite reports that the Rays would only send Zobrist to the A's if they also took Escobar. In other words, neither team wanted him.
The A's eventually shipped Escobar to the Nationals where he has now been moved from shortstop to second base and according to Wagner, Escobar "wasn't thrilled" about that move either.
The Nationals have been able to calm Escobar down for the time being as he has apparently he "came around" with Escobar noting that the Nationals are "an organization that wants to win."However, it is unclear if Escobar will stay upbeat about the move, admitting that he is struggling to learn the position.
"Everything is opposite," Escobar told the Post. "The double play is hard for me. It's confusing. Sometimes I still feel like I'm playing shortstop while at second. It's hard to get used to. But with every day of work, I'll get there."
Likes

(

0

)
Dislikes

(

0

)