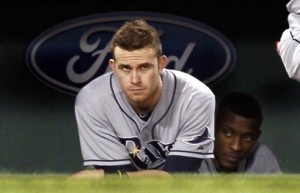 Evan Longoria was a guest on ESPN Radio's "Mike & Mike" this morning when he answered some questions from fans live on the air.
Most of the questions were pretty standard stuff like the toughest pitcher he has faced (Longoria named Andy Pettitte, Yu Darvish, and Max Scherzer), his idol growing up (Ken Griffey Jr.), and craziest thing Joe Maddon did as a manager (themed road trips).
But there was one interesting question. Longoria was asked about the best prank a teammate has played on him. Longoria starts to recall one story from the 2009 season before offering an edited version because "it's not very family-friendly."
"Let's just say I ended up with an animal head in my locker," said Longoria. "It didn't smell too great."
Longoria added that the prank was in retaliation for another prank but that he wasn't the person who pulled off the first prank.
Longoria never reveals the name of the prankster but does hint that it was a veteran player, noting that he got the retaliation in part because he was a young player. He was in his second season at the time.
There are a few candidates from the '09 team. But if I were a betting man, I would put my money on Pat Burrell.
Here is the full interview. The dead animal stuff comes at the 4:24 mark:
Likes

(

0

)
Dislikes

(

0

)