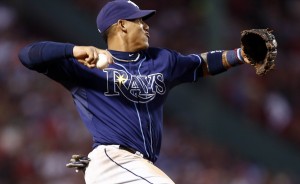 Here is an interesting twist to the Ben Zobrist-Yunel Escobar trade with the Oakland A's.
Escobar has now been traded to the Washington Nationals for Tyler Clippard. That is mildly interesting since Escobar will be replacing Asdrubal Cabrera, who signed with the Rays, meaning Escobar will play second base.
But what is really interesting is this nugget from Susan Slusser:
I have independent confirmation deal has happened, Escobar for Clippard. Taking Escobar was how the #Athletics were able to get Zobrist.

— Susan Slusser (@susanslusser) January 15, 2015
In other words, the Rays only made the trade with A's if they were also willing to take Escobar. Basically, the Rays were desperate to dump Escobar and they used Zobrist to make it happen.
The A's had no interest in Escobar but took him anyway and then parlayed him into a pitcher.
THE JUNKYARD DOGS WEBTOPIA…
According to Jon Morosi, the relocation of the Rays to Montreal is "not being seriously considered" at the owners meetings. Does that mean it is being considered, but just not seriously? Or are they joking about it like the rest of us? I am confused. [@jonmorosi]
Matt Moore has been throwing for a while now. He is expected to throw off a mound for the first time since Tommy John surgery in the next week or two. [FoxSports.com]
Here is a rundown of the Yankees off-season spending. It sure sounds like they are cost-cutting. [NYPost.com]
Here is a look at the futuristic stadium being built for the Atlanta Falcons. What is interesting from a Rays' point of view is the last image of the stadium as it would be used for soccer. Instead of tarps over the upper deck, there are panels that come down to hide the upper deck. So much better. [BI Sports]
Likes

(

0

)
Dislikes

(

0

)