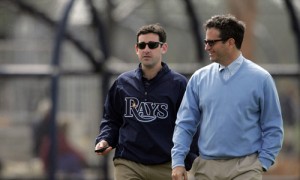 $20 million. That's the most the Rays would have to pay to get of their contract with the city of St. Pete for using Tropicana Field.
The Rays have reached an agreement with the city of St. Petersburg that will allow the Rays to explore potential stadium sites in Hillsborough County according to Stephen Nohlgren of TampaBay.com.
That's nice, but we knew that was coming.
More importantly, we now know how much it would cost the Rays to move. More specifically, we now know how much the Rays would have to pay the city of St. Pete to get out of their contract to use Tropicana Field.
It is a lot less than we feared.
Payments would be based on how many years would remain on the Trop lease if the Rays left, starting at $4 million a season until December 2018, dropping to $3 million a season from 2019 to 2022 and $2 million from 2023 through 2026.
As we learned previously, during previous negotiations with former mayor Bill Foster, the city wanted $5 million per season, while the Rays were offering $2-3 million.
So it would seem the Rays won this negotiation because the $4 million price will never come into play.
Under the most optimistic scenario, let's assume it takes 18 months to find a location and figure out how to pay for it. That means the city of Tampa would break ground for a new stadium in mid-2016.
Marlins Park took about 2.5 years to build.
If we use this rough schedule, that would mean the earliest the Rays could potentially move into a new stadium would be in 2019.
That would mean the Rays would have to pay at most $3 million for four years (2019-22) and then $2 million for four years (2023-26).
That's $20 million over eight years.
That's not bad at all.
[Ed. note: the wording in the TampaBay.com story is not entirely clear. There is a possibility that the payment schedule does not change if there are more than 4 years left on the contract. For example, if the Rays leave in 2019, you could interpret the paragraph above to mean they would have to pay $3 million for EVERY year left on the contract. That would raise the total price to $24 million. Still not bad.]
Likes

(

0

)
Dislikes

(

1

)