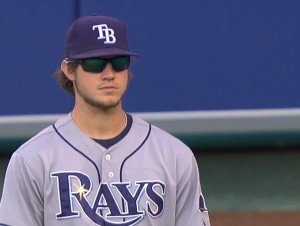 The Rays appear to be close to trading Wil Myers to the San Diego Padres for prospects and the deal could happen at any minute.
This has left many wondering why the Rays would give up so quickly on a young player they gave up a lot to acquire and a player that seemed to have such a high ceiling just two years ago.
For the trade to make sense, you have to make two assumptions about Myers, two assumptions the Rays may have already made.
1. Wil Myers will never develop into a good defensive outfielder.
Myers has been a defensive liability for the Rays in his first two seasons and that goes against everything the Rays value.
Joe Maddon tried to challenge Myers to become a gold glove outfielder. But that was just a plea for him to stop being bad. It didn't work.
If you assume Myers is never going to be a plus-defender — there is little to indicate he can be — then in the long run he is destined to be nothing more than a DH for the Rays who would prefer good defenders in the outfield to supplement their pitching.
If Myers is eventually going to be a DH, then it is better to move him now while he still has value.
2. Wil Myers will never develop 35-40 home run power.
You could live with Myers as a DH or even as a defensive liability if he is going to hit .280+ with 35-40 home runs every year.
This actually seems more plausible than Myers becoming a good defender. But so far, Myers has given little indication that he is going to make that kind of leap offensively.
Is it possible? Sure. But I would be less surprised if he hit .250 with 20 home runs. In fact, one projection system says Myers is most likely to do just that, hit .251 with 21 home runs.
In 2014, 38 players hit at least .250 with at least 21 home runs. So, it's not like those kind of players grow on trees, but they are around.
That's it.
If Myers can't be a plus-defender and he is unlikely to become one of the top hitters in the AL, then it is better to sell now, sell high.
Likes

(

2

)
Dislikes

(

0

)