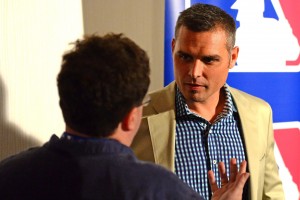 Marc Topkin has more on the Rays' search for a new bench coach which turns out may not be a bench coach at all.
One possibility being considered is to just hire another coach with somebody on the staff already moving to the bench. Topkin says one candidate to move would be third base coach Tom Foley whose position could then be filled by somebody like Charlie Montoyo, Rocco Baldelli, or minor league hitting coach Chad Mottola whom Topkin says is a "longtime Cash buddy."
Topkin also says there is a possibility that George Hendrick will retire, opening another spot.
One interesting angle to consider in all this is that the Rays do not currently have a Spanish-speaking coach on the staff, something that is probably important in today's game.
THE JUNKYARD DOGS WEBTOPIA…
Kevin Cash jokes about why will wear no. 16 (he has put on weight).
Cash was also a guest on MLB Now.
Likes

(

0

)
Dislikes

(

0

)