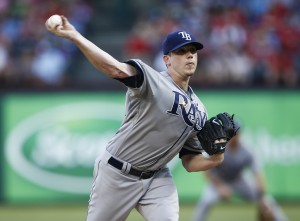 The Rays are "moving closer" to trading Jeremy Hellickson and a deal could happen this week according to Joel Sherman of the New York Post.
#Rays are moving closer to dealing Jeremy Hellickson to an NL team. Likely this week

— Joel Sherman (@Joelsherman1) November 10, 2014
This should not come as a surprise. His limited ceiling compared to other Rays starting pitchers combined with his growing salary and age makes Hellickson an ideal trade candidate.
Hellickson will be 28 next season and is projected to make $3.9 million through arbitration next season. Hellickson has two years remaining before he is eligible for free agency.
Hellickson is also represented by Scott Boras, so even if the Rays wanted to give Hellickson an extension (unlikely) there is little chance they'd actually be able to do it.
Likes

(

0

)
Dislikes

(

2

)