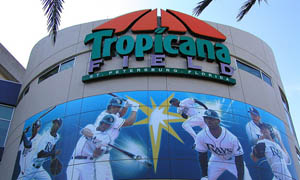 The Tampa Bay Rays and the City of St. Pete appear to be nearing a deal that would allow the Rays to "explore new stadium sites in Hillsborough County" and a deal could be reached before Christmas according to Stephen Nohlgren and Charlie Frago of TampaBay.com.
Meh. That's nice, I guess. But wake me when there actually is a deal. And even then, that doesn't mean the Rays can actually build a stadium in Tampa.
But there is one very fascinating point in this article that is huge. We may soon know how much it will cost for the Rays to break their contract with the city:
[Council Chairman Bill] Dudley, who meets with [St. Pete mayor Rick Kriseman] weekly, said one critical element would be monetary compensation for the city if the Rays leave for Hillsborough before 2027, when their contract to play at Tropicana Field expires … 'I don't know what the number is,' Dudley said, but added that city lawyers are working on contractual language 'to protect our interests.'
Dudley doesn't know what the number is, but Nohlgren and Frago provide a little bit of insight into what it might be.
According to the report, during the Rays' previous negotiations with former mayor Bill Foster, the team was offering "around $2 million to $3 million" for each season left on the contract and the city wanted "about $5 million."
Let's play with the numbers.
The Rays' contract with the city is through the 2027 season. Let's assume it takes 18 months to find a location and figure out how to pay for it. That means the city of Tampa would break ground for a new stadium in mid-2016 (we're being optimistic here, but humor me).
Marlins Park took about 2.5 years to build.
If we use this rough schedule, that would mean the Rays could potentially move into a new stadium for the 2019 season.
That means we are talking about the Rays needing to buy out nine years of their contract and it would cost somewhere between $18 million and $45 million based on where the two sides were during the Foster negotiations.
Of course, that goes down the longer this drags out, but at least we now have an idea of what a buyout might look like.
Likes

(

0

)
Dislikes

(

0

)