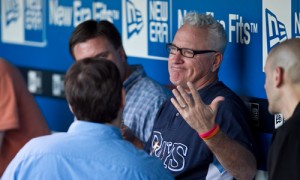 Joe Maddon will be introduced later today as the next manager of the Chicago Cubs thus ending a shady timeline that may have started while Maddon was still manager of the Rays and saw another manager get screwed out of a job.
Before the Cubs could hire Maddon, they had to fire Rick Renteria who had just managed his first season in the big leagues and led the Cubs to a 73-89 record. Cubs president Theo Epstein issued a statement pretty much admitting that Renteria was getting screwed:
Last Thursday, we learned that Joe Maddon — who may be as well suited as anyone in the industry to manage the challenges that lie ahead of us — had become a free agent," Epstein said. "We saw it as a unique opportunity and faced a clear dilemma: be loyal to Rick or be loyal to the organization. In this business of trying to win a world championship for the first time in 107 years, the organization has priority over any one individual. We decided to pursue Joe.
That quote also seems to needlessly point out when the Cubs first learned of Maddon's free agency. That's important because some believe the Cubs contacted Maddon, either directly or indirectly, before he opted out of his contract and may have influenced his decision to do so.
When Maddon first opted-out of his deal, Marc Topkin reported that "the Rays side" wondered if Maddon had already cut a deal with another team prior to opting out.
That's a big no-no. It's called tampering and if proven, the Cubs would be penalized by MLB.
After Maddon's deal with the Cubs was announced, Topkin and the Rays turned up the flame when he reported that the Rays "remain convinced that the Cubs enticed Maddon to opt out of the final year of his contract" and that they are still considering whether to file tampering charges.
Buster Olney compares the situation to pitchers using pine tar. Things like this go on all the time. But when it is so blatantly obvious, you may have no choice but to stand up and say something or you look like a push-over.
Meanwhile, Maddon's agent turned to name-calling in defense of his client. In an interview with Jim Duquette of MLB Network Radio, Alan Nero called the allegations "silly," "sad," and "a bit insulting."
On the tampering allegations, Nero "it's silly to pursue tampering charges and it's sad and a bit insulting" if they do @MLBNetworkRadio

— Jim Duquette (@Jim_Duquette) November 2, 2014
I've long said that Joe Maddon is a manager that you love if he is leading your team and you absolutely hate if you are rooting for the other team. He often comes off as a bit arrogant and always believes he is the smartest guy in the room.
Rays fans are getting this dose of reality much sooner than we could have anticipated and it will be interesting to see just how warmly Maddon is treated next time he returns as manager.
Likes

(

1

)
Dislikes

(

0

)