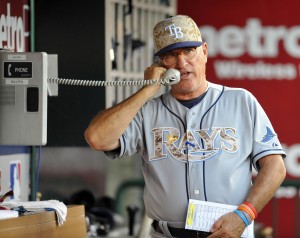 After negotiating his 5-year, $25 million contract with the Chicago Cubs, Joe Maddon made one last offer to the Rays according to Jon Heyman of CBSSports.com.
But while Heyman describes the offer as a "real effort to stay in Tampa Bay," Maddon almost certainly knew the offer would be rejected which means the offer was more of a symbolic gesture than a desire to actually remain the manager of the Rays.
Reports say that the Rays were offering a contract worth as much as $3 million per year. However, it is believed that the Rays and Maddon discussed deals ranging from three to ten years in length.
If we assume that the 3-year offer had the highest per-year average, then the Rays' best offer may have been a 3-year, $9 million contract, a decent raise from his previous 3-year, $5.5 million contract, but still a far cry from what the Cubs were offering.
When it comes to contracts, the Rays tend to make offers rather than negotiate. That is, they have an idea of what somebody is worth and they make an offer. At the point it is simply up to the other side to accept it or reject it.
While there may have been more wiggle room with Maddon, the two sides were just too far apart and Maddon and his agent knew that.
So why make the offer? Maybe Maddon wanted to mend some hurt feelings that arose during the "contentious" negotiations (at one point, Heyman does describe the offer as an "olive branch"). Or maybe Maddon wanted to save face a little bit with the Rays fans who see him as being greedy or with other fans who see him as a guy who played dirty and took a job somebody else already had.
Either way, once Maddon opted-out of his contract (and maybe even before then) he was gone and he was never coming back making Maddon's "offer" was pretty meaningless.
Likes

(

1

)
Dislikes

(

1

)