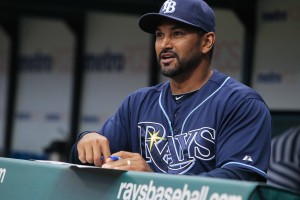 In a move that is no surprise, Dave Martinez has resigned as bench coach for the Tampa Bay Rays stating that he has chosen to "move forward and consider other opportunities that may present themselves outside the organization."
Martinez was under contract for the 2015 season, however, there was little chance he was going to be retained once the Rays hired a new manager to replace Joe Maddon.
While the Rays' front office makes all decisions regarding the coaching staff, the bench coach is the one spot where it is important that the person has a personality that meshes well with the manager. Therefore, a new manager is almost certainly going to want to be able to pick his own bench coach.
Of course, now speculation will be that Martinez will become Maddon's bench coach with the Cubs. Martinez began his playing career with the Cubs and briefly returned to the organization late in his career.
While it has not been confirmed, Martinez' resignation likely came as the result of a negotiated buyout of his contract.
Martinez could have stuck around and waited to be fired, in which case he would have been owed all of his 2015 salary, so there is little reason for him to tender his resignation now unless there was some financial benefit coupled with the slightly longer time to seek out a new job.
Likes

(

0

)
Dislikes

(

0

)