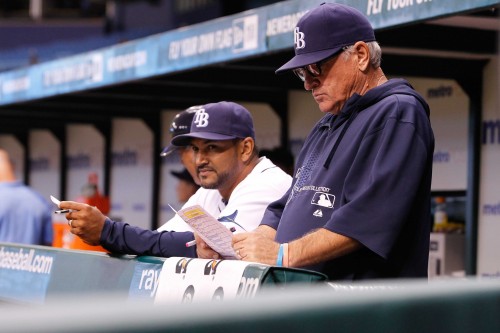 Back in September when we discussed the possibility of Joe Maddon not managing the Rays in 2015, the uneasiness of the thought was muted a bit because we knew the Rays have Dave Martinez waiting in the wings and nobody knows the ways of Maddon better than Martinez.
But while Martinez is certainly a candidate, there is no guarantee he will take over Maddon's office next season. In fact, Matt Silverman made it clear today that they don't have a specific name in mind to replace Maddon.
Following the announcement that Maddon was opting out, Silverman said that the team will conduct "a deliberate and comprehensive search that will include both internal and external candidates."
He added that "there is "no timetable" and that they will take as long as needed "to get the right guy."
But there is a bigger reason why I would not be surprised if the Rays decided to go in another direction.
The Rays always have a plan even if they don't need one. If that plan was "promote Dave Martinez" it would have already happened.
Think all the way back to when Andrew Friedman left to become the president of baseball operations with the Dodgers. The Rays already had succession plan in place and they immediately named Matthew Silverman as the new head of baseball operations.
This doesn't mean that Martinez won't be the next manager. Rather, it just means he will probably have to interview for the job along with several other candidates and so far, that hasn't worked out too well for Martinez.
Likes

(

0

)
Dislikes

(

0

)