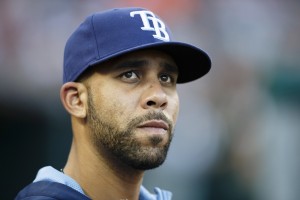 Let me preface this by saying I still think the Rays should trade David Price whenever Andrew Friedman thinks he can get the best deal. But what if there was a scenario in which Price stays with the Rays through next season and everybody wins?
Follow me down the rabbit hole.
Price is making $14 million this year and is projected by many to make ~$20 million next year in arbitration. Here is the one scenario that makes sense for keeping Price until he becomes a free agent:
Sign Price to a 1-year deal for $15-16 million with $1-2 million deferred and a full no-trade clause.
Why David Price would do it.
Price gives up a few million. In exchange he gets to stay in the Bay Area for another year, he gets to keep playing for Joe Maddon and with his friends, all of which he clearly wants to do.
But most importantly, it eliminates the unknown, something he clearly does not enjoy.
He also gets to enter free agency clean. That is, there will be a clean break at the end of the season and no pressure to re-sign with a team that just gave up a bunch of prospects for him and Price is free to sign with any team he wants.
His legacy is also not tainted by 1+ seasons as a hired gun in his prime. His career is going to be defined by his time with the Rays and whichever club he signs long-term. He doesn't want to spend one of his prime seasons with some third team that won't be part of his legacy. There is also the danger that whatever team trades for Price will be out of the race next July and trade him again.
Why the Rays would do it.
The Rays get to keep one of the best pitchers in baseball, in his prime, at a discount. The Rays love discounts. The Rays also know they are a better team in 2015 with Price, than without.
The Rays would also not be losing Price without gaining anything in return. If Price leaves via free agency, the Rays will pick up what amounts to an extra first round pick. That is not nearly as good as 2-3 big-league ready top prospects. But one top prospect plus two shots at World Series glory may be a nice compromise.
There is reason to think this can be done.
The Rays have done this before when they did not trade Carl Crawford and let him walk via free agency.
Ultimately, both sides have to be willing to make a little sacrifice. For Price, he needs to sacrifice a few million for an extra year of stability. The Rays need to sacrifice a couple of prospects. That's a big sacrifice by both sides. So it may not be likely or even realistic. But if you are looking for a way to keep Price, this is it.
Likes

(

0

)
Dislikes

(

0

)