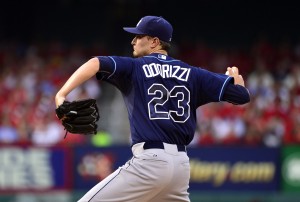 The GBT – The Good, The Bad and The Telling sandwich, where The Bad is nice and lean and the The Telling is ripe.
RAYS 7, Cardinals 2 (boxscore)
THE GOOD: Jake Odorizzi. It was the rookie versus the All-Star starter in the first game of a long stretch against playoff contenders and the game was on the road. No big deal. Odorizzi came through with 8 strikeouts in 5.2 innings, giving up 2 runs and even driving in a run with a nicely placed bunt…No-name bullpen. First it was a rookie to start. Then it was 3 pitchers that were in the minors when the season started. Jeff Beliveau, Brad Boxberger, and Kirby Yates combined to throw 3.1 scoreless innings with 5 Ks and just 1 walk…Hot Loney. James Loney now has 4 straight multi-hit games and is 11-22 in the last 6 games with 5 walks.
THE BAD: The Outfield shift. With the eventual return of Wil Myers, one idea that is gaining popularity is moving Kevin Kiermaier to center field and shifting Desmond Jennings back to left field. But there is a problem with that scenario. The Rays' best offensive position this season has been left field with a .805 OPS. Designated hitter (.755) is the only other position with an OPS over .750. That means Joe Maddon's insert-best-bat-for-tonight's-opposing-pitcher platoon in left field is working and Maddon is not going to want to change that.
THE TELLING: Joe Maddon was ejected for the 4th time this season. Only Cubs manager Rick Renteria has more (5). Maddon also had 4 ejections in 2012 and 2013. Over the last 3 years, Maddon's 12 ejections are second only to Clint Hurdle (14). The Rays are 3-1 this season when Maddon is ejected…Joel Peralta went on the DL and has been sent back to St.Pete to take some blood tests to determine if he contracted a virus over the break in the Dominican Republic…Jake Odorizzi batted 8th in the NL park…David Price will start Friday's game against the Red Sox and Jeremy Hellickson is expected to start on of the weekend games…The Rays have now won 6 in a row for the first time this season.
THE JUNKYARD DOGS WEBTOPIA…
Joe Maddon was ejected when he was yelling at Adam Wainwright and the umpire thought Maddon was yelling at him. [TampaBay.com]
Is Evan Longoria's bat speed affecting his play? [CalltothePen]
DOWN ON THE FARM [boxscores] The Durham Bulls were shutout 4-0, generating just 5 hits, striking out 13 times and walking just once…Richie Shaffer went 2-4 with a pair of doubles and 4 RBI in Montgomery's 7-6 win…First baseman Patrick Leonard hit his 13th home run for Charlotte…Casey Gillaspie had a triple and 2 walks for Hudson Valley.
A James Loney-Jose Molina double-steal. It actually happened. We did not make it up…
Ben Zobrist's wife was in the stands with a couple of hundred other Zobrists.
Likes

(

0

)
Dislikes

(

0

)