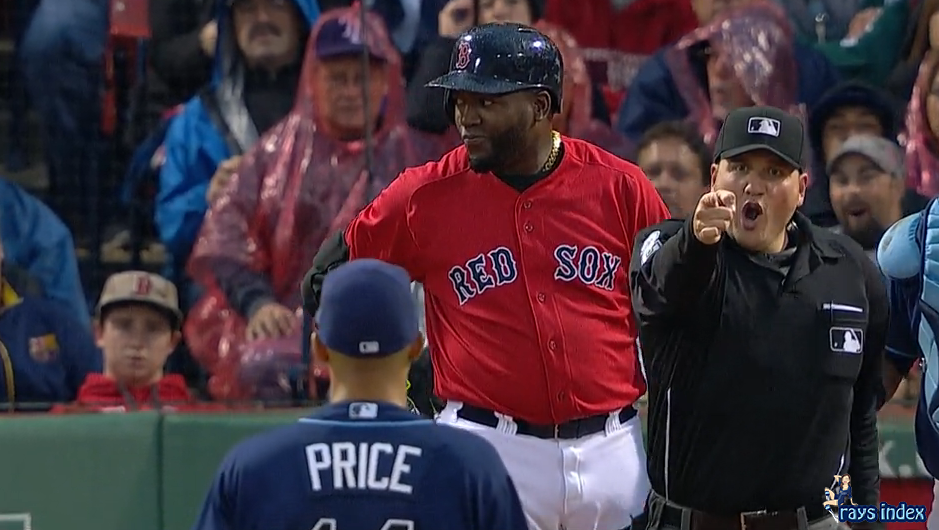 Rays consigliere Ken Rosenthal has a curious column up today about the tension between David Price and David Ortiz following Friday night's incident in which Price hit Ortiz, seemingly in retaliation for Ortiz watching his home run too long in last year's ALDS.
What is curious about the column is Rosenthal spends the first half going into great depth to explain that Price did exactly what many pitchers, including some on the Red Sox, would have done to Ortiz if faced with the same situation.
There is even the suggestion that Price gained a lot of respect by sending a much-needed message to Ortiz that he is not bigger than the game, despite his own words to the contrary.
But then the column takes a decided turn when Rosenthal criticizes Price for putting the game in jeopardy and his teammates in danger.
In the paragraph immediately after pointing out that Ortiz referred to Price as "a little girl" and "a little b*tch," and equated their beef with war, Rosenthal has this to say about Price:
"That's twice now that Price has come off as touchy, maybe even immature. And frankly, I'm starting to wonder what it might mean for him in the future."
I had to actually reread that sentence because I assumed at first he was referring to Ortiz and just mistakenly typed "Price."
Rosenthal's ultimate point is that he wished Price had taken the high road, a legitimate desire.
But Price did not do anything many other pitchers would have done or even wanted to do.
Price didn't throw at Ortiz's head the way Brandon Workman threw behind Evan Longoria's head, and it certainly wasn't Price who put Longoria in danger.
WORKMAN PUT LONGORIA IN DANGER.
And Price didn't inflame the situation with moronic words and comparisons after the game.
If Rosenthal's point is that hitting a batter over pimping a home run is touchy and immature, that is fine. But don't single out Price when pitchers have been doing much worse for over 100 years.
Could Price have taken the high road and not thrown at Ortiz? Sure. But it would seem to me that Price is the least immature person in this saga, and Price did nothing more touchy or immature than any other pitcher who has ever felt wronged and hit a batter.
Likes

(

0

)
Dislikes

(

0

)