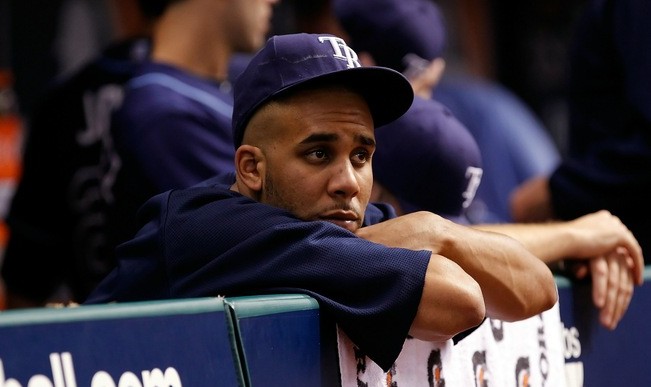 It is no surprise that rumors of trading David Price are starting to pick up steam. This would have happened even if the Rays were still in contention.
What is a surprise is that the rumors now seem to be bothering the usually affable Price and he may be getting to the point where he wants a trade to happen so that the nonsense will stop.
In a column titled, "David Price Trade Must Happen Soon," Marc Topkin of TampaBay.com has this jolting little nugget:
It has become increasingly obvious that the Rays likely — if not absolutely, positively — are going to trade Price over the next 51/2 weeks until the July 31 deadline…There's also this: Price's frustration with the Rays' overall situation — the team unexpectedly losing so much, the again constant trade speculation, his reluctantly accepting the reality that he's likely going to leave a place he truly loves — has become obvious daily. His media interviews have become painfully awkward. And hearing a clubhouse leader saying "We're the worst team in baseball" — albeit true record-wise — isn't exactly inspiring.
This is not the David Price we all love. Price does occasionally stick his foot in his mouth. But he always chews on that foot with a big smile on his face.
Price has been through a lot with the Rays and it is not like these rumors are something new. But this reaction is and what the Rays don't need is Price's sour attitude influencing the minds of the young pitchers who are still being molded into the Rays Way.
In the meantime, we are starting to get a clearer picture of the teams that could be involved in landing Price and whether a deal will happen.
Marc Topkin noted that the Blue Jays, Cardinals, Giants, Indians, and Yankees all had scouts to watch Price in his most recent start.
David O'Brien of the Atlanta Journal-Constitution writes that the Atlanta Braves are not likely to pursue a deal, noting they are already over budget and have a good rotation.
Buster Olney says the Giants "like Price a whole lot," and the Cardinals "certainly would have the prospects to get Price if they devoted themselves to making a trade." Olney adds that the Angels "could use Price," but may not be able to match what the Cardinals can offer.
Olney previously wrote that the Blue Jays don't have the prospects to pursue Price. Of course, that could quickly be remedied by adding a third team to the mix.
Meanwhile, Olney spoke with a talent evaluator who summed up the thinking on giving up the farm for a player like Price.
Because this is a guy you trade for if you want to try to win a World Series…You get him for this year and for next year and he makes your team better, and you can match [Price] up against anybody. You worry about the cost of signing him later, and if he walks away, that's the way it goes. But you're adding a No. 1 starter who can be a difference-maker for two seasons.
Hang on, folks. This ride is about to get bumpy. In the meantime, enjoy Price while we still can. Because every start Price makes for the last-place Rays is one less start Price can make for a team in contention.
Likes

(

0

)
Dislikes

(

0

)