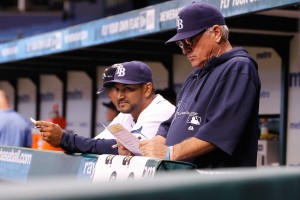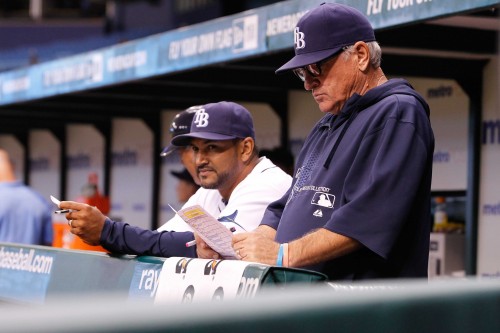 In 20111, the Tampa Bay Rays led Major League Baseball by a wide margin when they used 216 infield shifts over the course of the season. That season, only four teams shifted more than 100 times.
As will happen in sports, teams copy what works and last season, the Rays didn't even lead their own division in defensive shifts. The Orioles led baseball with 470 shifts and 23 teams shifted at least 100 times.
This season, defensive shifts have exploded and one of the teams that has bought in is the New York Yankees.
As a result, David Waldstein of the New York Times took an extended look at shifting face of defense in Major League Baseball.
According to Waldstein, teams will average more than 450 infield shifts this season. The Astros alone are on pace for nearly 1,500 shifts this season.
As you can imagine, a large portion of the Times story focuses on the Rays and Maddon. The most fascinating part may be Maddon's take on the psychological aspect of the defensive shift.
Most understand that a shift can take a slugger off his game because he starts to consider things like bunting. But Maddon says it goes a step further.
"You are trying to split someone's desires, his concentration, his thoughts…It's a psychological ploy as well. They grew up looking out from the batter's box and the infield had a certain look to it. Now when you look out there, people are in different places. How's that going to affect you in that at-bat?"
In other words, even if the batter has no intention of changing his approach at the plate, he still has to deal with an environment he is not used to seeing and that alone can mess with some players' heads.
Of course, other players have seen the shift so much by now that it will have less of an impact, psychologically at least.
The other fascinating part is when Maddon is asked what the risks of shifting are.
"None," Maddon told the Times.
This is certainly debatable. But it is interesting that Maddon feels there is zero risk to giving up a free base considering the rarity of home runs.
I linked to it before, but if you missed it, I recently took a look at defensive shifts and how they may be having more of an impact on scoring than steroid testing. You can read that here.
Likes

(

0

)
Dislikes

(

0

)