Things are getting ugly again in game one of the series with the Red Sox.
David Price hit David Ortiz in the first inning with a pitch that did not look like an accident.
Both sides were immediately warned, leading to this great image with the umpire and Big Papi's face.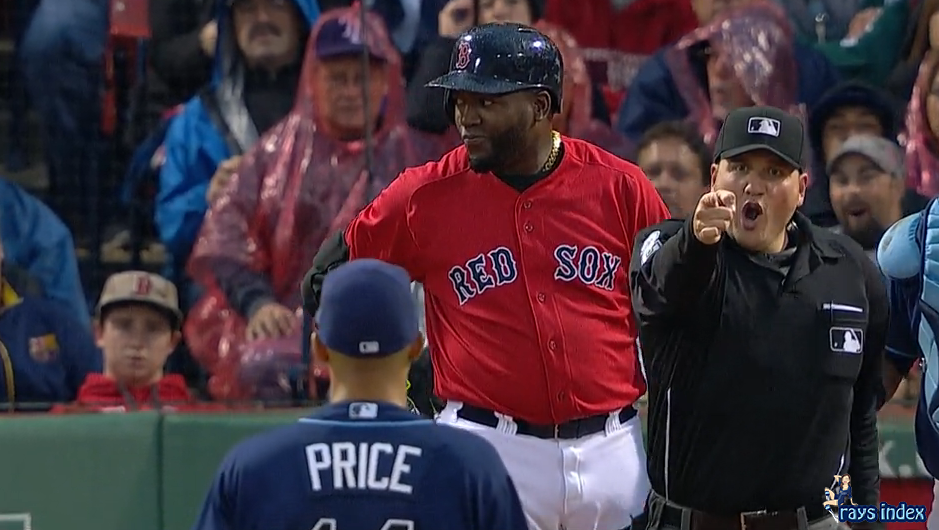 John Farrell thought Price should have been ejected and instead got himself ejected. His face is priceless.
This comes after benches cleared last weekend after the Red Sox threw a fit because Yunel Escobar stole third base with a 5-run lead. However, Dave Wills and Andy Freed speculated that this was actually in retaliation for Ortiz taking a long time to watch his second home run off of Price in the ALDS last October.
Price was clearly upset after that game, thinking Price took a little too long watching his home run even though it had already been ruled fair.
Later on, Price hit Mike Carp with a pitch that even Red Sox television announcers said was probably not intentional. Price was not ejected, but the benches cleared and big Ortiz somehow couldn't get to Price even though he acted like he was trying.
The acting Red Sox manager at the time was ejected arguing that Price should have been ejected.
"Let's F***ING go!"
After things settled down, Carp took things too far, trying to break Yunel Escobar's leg with a spikes-high slide. Luckily he whiffed completely.
If you thought things would be done, you'd be wrong. Later on, Brandon Workman threw behind Evan Longoria's newly mohawked head. To give Workman the benefit of the doubt it was raining at the time. But that it was Longoria and that it was up at Longo's head. Workman was ejected as well as the second acting Red Sox manager.
The final tally is: The Rays hit three Red Sox batters and had no ejections. The Red Sox hit no batters and four players and coaches were ejected.
*tries to hide the giggles*
Here is Longo's hair, or lack-thereof.
Likes

(

0

)
Dislikes

(

0

)