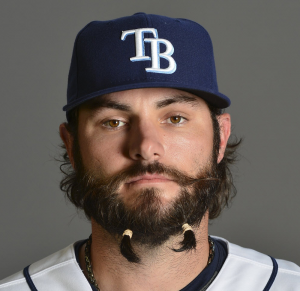 Following the 2011 season, the Rays traded John Jaso to the Seattle Mariners for Josh Lueke, a relief pitcher who had been accused of raping a woman in 2008 while playing in the minors leagues.
In some respects, it was a typical Rays transaction. The Rays had four potential big league catchers at the time after having just signed Jose Molina, and Lueke's past meant he was cheaper than his talent would suggest.
While some of these moves work for the Rays, others do not, and this one has failed miserably.
Even if we ignore that Jaso has gone on to be a decent big league catcher with the Oakland A's, Lueke's past has become something that cannot be shoved under the rug in a way the Rays were almost certainly hoping (if you are not familiar with Lueke's past, start here).
"Josh Lueke is a rapist," is mumbled by fans at home while they are watching games on television.
"Josh Lueke is a rapist," is announced on Twitter and Facebook anytime Lueke takes the mound or his name is mentioned.
I hear and see it a lot and have come to expect it. But apparently some Rays fans have become annoyed by the proclamations and have had enough, admonishing people who point out what many others were already thinking.
"Josh Lueke is a rapist," has become too much for some Rays fans to hear over and over.
But at least one rape victim doesn't care and actually wants people to keep saying "Josh Lueke is a rapist."
In a story for Deadspin.com, Stacey May Fowles makes the argument for why Lueke deserves our scorn (please, go read the entire column).
Because of the nature of his crime and perhaps because of stories like MLB.com's, which treated the "situation" as a bit of adversity for Lueke to overcome, some baseball fans have taken it upon themselves to remind the public—in the limited capacity they can—that regardless of how well Lueke may be pitching, he still victimized someone. In fact, there's something buoying (and to be honest, culturally uncommon) about the fact that the collective still hasn't forgotten the charges six years later, that each time he gets called out of the bullpen you can rely on a "Josh Lueke is a rapist" chorus rising up from stadiums, bars, and couches across baseball land. Links about his arrest litter my feed, and batters are cheered on against him. But during that Saturday night game, DRaysBay.com editor Erik Hahmann suggested that enough was enough. "It gets brought up every game by some asshole on twitter," he tweeted. What ensued was a discussion, largely made up of male writers and fans, about the etiquette of reminding people that Lueke raped a woman…Apologies to those for whom these Josh Lueke tweets interfere with their enjoyment of a game, but the threat of sexual assault interferes with how a vast majority of women enjoy life. The collective vitriol over his ongoing employment by the Rays has everything to do with the fact that he is a high-profile example of the way rape works in everyday life. The act—the trauma—often leaves a life-long mark on the victim, influencing her ability to navigate the world safely and comfortably. In a very large percentage of cases, the perpetrator sees little or no consequence, and the victim's suffering is exacerbated by his freedom and success. …My own fear may prevent me from calling out my attacker in a public forum, but at least I can remind the baseball community that we have failed victims every time Lueke comes up to pitch. The fact that others don't see it as a meaningful action is entirely meaningless to me.
Some will argue that Lueke was never convicted of raping the woman. However, we can say he was never found not-guilty of rape and he did plead no contest to a charge of false imprisonment with violence.
As some of you know, in a former life I worked on hundreds of sexual assualt cases as a crime scene investigator. I know all too well how few of these cases go to trial and how even fewer result in convictions despite what the average person might consider overwhelming evidence of guilt.
That Lueke was convicted of anything is pretty damning in a case like this.
Earlier this week, a Rays fan said to me "I change the channel if that [piece of sh*t] comes in to pitch," which brings us to the Rays.
We are entitled to our own personal opinions about Lueke and whether or not you think people should still announce "Josh Lueke is a rapist." But Lueke is bad for business and he hasn't been good enough on the field to justify all the negativity that comes with him off of it.
Lueke is just not a very good baseball player who may some day turn into a decent player. But the Rays have other options in triple-A who can post a 4.05 ERA (4.55 FIP) and 6.1 strikeouts per nine innings.
The problem at this point is that Lueke is out of minor league options, so he cannot be demoted. It is also unlikely that another team will be willing to give up anything in a trade, especially after the Deadspin.com article.
That means the Rays would have to cut Lueke and they hate giving up talent for nothing in return.
But at this point, Lueke is nothing more than an extra arm in the bullpen who is an evil man to some, an embarrassment to many, and who is a distraction to all.
In other words, he is just not worth it and it is time to move on.
Likes

(

0

)
Dislikes

(

0

)