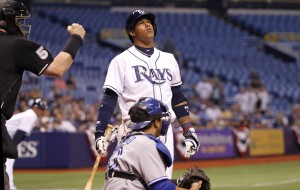 The GBT – The Good, The Bad and The Telling sandwich, where The Bad is nice and lean and the The Telling is ripe.
Jays 4, RAYS 2 (boxscore)
THE GOOD: Evan Longoria. I'm just going to leave this here. Beautiful.
Gold Glove. Web Gem. SC Top Ten…
THE BAD: 
Alex Cobb
. The home runs are going to happen with a changeup pitcher (see: Shields, James). But what was worrisome was that he worked just 5 innings and needed more than 100 pitches to do it. Cobb needs to be a workhorse, even when things aren't going well…
Swing the Bat
. With the tying runs in scoring position in the ninth inning with 2 outs, Yunel Escobar watched the same exact low slider go by him three times and struck out looking. Even if he didn't think the first two were strikes (he didn't, they were), he has to know that the pitcher is going to go back there and he has to expand his own zone…
Another Game, Another Maddon Slow Walk
. For the second straight game, Maddon did a slow walk out to the umpire to await word from the dugout to see if he should review a close play at second base involving Matt Joyce. It took Maddon 30 seconds to get to the umpire. It took another 23 seconds to get the signal from Dave Martinez. Then it took Maddon another 21 seconds to return to the dugout. A total of 1 minutes, 14 seconds to decide not to challenge a play. Baseball needs fewer interruptions in the pace of play, not more…
Attendance
. Attendance was just 11,113 for the second game of the season for a team that is one of the favorites in the American League. I will say that attendance for game 2 is often bad. Twice in the last 4 years, the Rays drew less than 16,000. On top of that, the Rays rarely draw well for the Blue Jays during the week. So it was a bad combination. But let's face it, this was bad.
THE TELLING: Speaking of pace of play, the game took 3 hours, 32 minutes. Brutal…The Durham Bulls rotation will be Nate Karns, Enny Romero, Matt Andriese, Mike Montgomery, and Erik Bedard…David Dejesus's foot was still swollen on Tuesday and he was out of the lineup.
THE JUNKYARD DOGS WEBTOPIA…
Likes

(

0

)
Dislikes

(

0

)