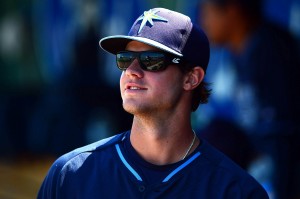 The GBT – The Good, The Bad and The Telling sandwich, where The Bad is nice and lean and the The Telling is ripe.
RAYS 7, Twins 1 (boxscore)
THE GOOD: David Price. It was just another spring training start, but King David just put the rest of the AL East on notice. After the game, Price had the best assessment possible of himself. "My cutter and my slider was really good, throwing the backdoor slider to a righty, and then throwing it in to a righty as well. That's something I have been working on and it was really good today. And my curveball was the best it's definitely been in six months, so that's good…Everything felt great…It's definitely a good feeling. I definitely haven't felt this good in spring training, probably since 2009 or 2010…it's definitely been a while." Of course Price needs to hold on to that feeling for the regular season. But if this is any indication we could be in for the best David Price yet.
THE BAD: None
THE TELLING: The Rays cut pitchers Braulio Lara, Santiago Garrido, and Sam Runion as well as catcher Curt Casali…The Rays have 5 errors this spring, but just 2 by players on the 40-man roster…The Rays are 2nd in spring ERA (2.97) and are 2nd in slugging (.474).
THE JUNKYARD DOGS WEBTOPIA…
David DeJesus was back in the lineup yesterday. Ben Zobrist will play today and Joel Peralta will pitch in a minor league game today.
Taijuan Walker, the Mariners super-prospect linked to the David Price trade rumors this winter has a sore shoulder and is out until at least April. [JonHeyman]
Joe Maddon on Yunel Escobar: "Yunel is an energy source for us. We plug into him. We need to market an Esco-Bar, a new energy bar."
I have written about this Rays fan and his autographed baseball collection. What I didn't know was that he has an autographed baseball from every player and coach that has ever worn a Rays/Devil Rays uniform. [SportsCollectorsDaily]
Joe Maddon spoke with a journalism class from his office…
Skyped with journalism students from Gibbs High this AM before our game. Great experience. Like to grow this concept. pic.twitter.com/mqjtjK0ipF

— Joe Maddon (@RaysJoeMaddon) March 12, 2014
Likes

(

0

)
Dislikes

(

0

)