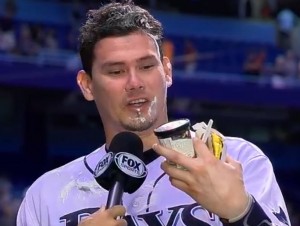 Jim Bowden of ESPN.com has a couple of Rays-related nuggets in his lastest column.
First, Bowden says the Rays have decided to not trade David Price. That's really not a surprise to Rays fans. However, Bowden makes it sound more definitive than it probably is.
We've known for a while now that trading Price had become unlikely. But the Rays are not the sort of franchise to ever make an absolute commitment to something unless they have to. In other words, if the Mariners came to the Rays today and offered their two best pitching prospects and 2-3 other prospects, the Rays would probably accept the offer and trade Price.
Of course, that is unlikely to happen. But the point is simply that no player is ever untouchable and there is always a price.
Buried at the bottom of Bowden's column is something that is actually much more important for the near future of the Rays:
The Nationals have been in discussions with the Rays for catcher Jose Lobaton, as they look for a backup for Wilson Ramos.
At some point the Rays have to make a decision on Lobaton. They will keep telling us and other teams that they are willing to start the season with three catchers. But there is no way that is their first choice and they just don't want to sound desperate to make a deal.
This news is significant because I don't even recall any other rumors and this sounds like something more significant than the usual "check in with the Rays." If serious, we could see another trade in the next few days.
A few other odds and ends…
Sam Fuld has signed a minor league contract with the A's. [TBO.com]
It is National Signing Day in college football, where old men drool over high school boys, use fax machines, a technology from the 1980s, and the kids do silly things like this > [BI Sports]
Former Rays reliever Kyle Farnsworth has signed with the Mets. [Wall Street Journal]
Likes

(

0

)
Dislikes

(

0

)