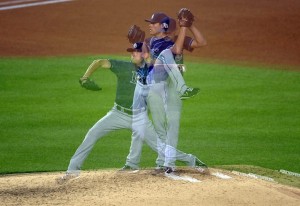 Matt Moore switched to an old workout program hoping to regain his velocity that seemed to disappear last year and his first live batting practice session could be an early sign of a big season to come.
Thinking back to where I was last year on the mound in that first live batting practice, I was a lot more encouraged walking off the hill today with the hitters' feedback, where the ball was winding up, where my effort level was. I think all those things are ahead of where we were at this time 12 months ago. … When I'm throwing the ball well, I'm not reaching back for more. The [distance to the] catcher almost seems shorter. I make sure I'm painting that stroke and that my body is staying back. If it feels like that in my mind, I'm thinking, 'Get down the hill, get down the hill.' [I've got] a little more clarity on the mound; a slower heart rate.
Joe Maddon was also encouraged.
"There's definitely a lot on the ball," said Maddon. "[There is] definitely a lot of hop on the ball. I'd say for the first day that I saw him pitch to live hitters, the velocity looked pretty impressive. I don't know what it was, but there was a lot of jump on the ball and some pretty good break."
Of course, it is just one batting practice. But last season, Moore's fastball averaged just 92.3 mph, down from 94.1 mph in 2012 and 95.3 mph in 2011. And yet, he still had a very good season (although his 3.95 FIP was remarkably similar to his 3.93 FIP in 2012).
If he can add a couple of inches to his fastball with the added experience under his belt, Moore could be in for a dominant season.
THE JUNKYARD DOGS WEBTOPIA…
Fan Fest attendance was estimated to be 20,000 and the Rays raised $102,000 for charities.
Ben Zobrist, out with a sore back, is hoping to return to action tomorrow. Wilson Betemit, Juan Carlos Oviedo. and Juan Sandoval have yet to report as they are dealing with visa issues.
Joe Maddon says he is impressed with how Hak-Ju Lee looks so far, returning from a torn ACL. [TampaBay.com]
Mikie Mahtook talks about his first trip to big league spring training. [TheAdvertiser.com]
A new sports cards blog took a closer look at Joe Maddon. [The Cardboard Examiner]
Likes

(

0

)
Dislikes

(

0

)