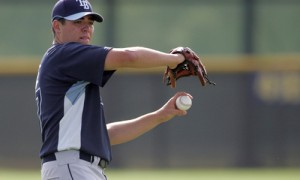 The MLB Network released their spring training schedule and it includes three Rays games that will be shown live.
In addition, another six games will be shown live online at MLB.tv and a tenth game will be shown on tape-delay on the MLB Network
Of course, it is 2014 and I have no idea why Major League Baseball can't air all spring training games online. Heck, just set up a webcam and hit the "on" button and that would be better than nothing.
Here are the games that will air live:
March 7 @ Blue Jays (1:00 PM)
March 10 @ Red Sox (1:00 PM)
March 26 vs Orioles (7:00 PM)
Here are the games that will be shown on tape-delay:
March 10 @ Yankees (12:00 AM)
March 20 @ Orioles (7:00 AM)
March 23 @ Red Sox (8:00 PM)
March 26 vs Red Sox (2:00 AM)
There will also be several games shown online at MLB.tv (* will also air on the MLB Network)
March 7 @ Blue Jays (1:00 PM)*
March 9 @ Yankees (1:00 PM)*
March 10 @ Red Sox (1:00 PM)*
March 16 vs Red Sox (1:00 PM)
March 18 vs Twins (7:00 PM)
March 23 vs Red Sox (1:00 PM)*
March 24 vs Twins (7:00 PM)
March 25 @ Red Sox (1:00 PM)*
March 26 vs Orioles (7:00 PM)*
Likes

(

0

)
Dislikes

(

0

)