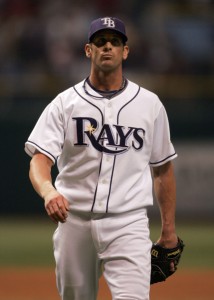 A lot of people think the signing of Grant Balfour means the Rays are keeping David Price, including Bill Chastain.
Yes, it is looking more and more like the Rays are going to keep Price, at least until July. But I am not convinced the two moves are related.
If the Rays did trade Price, it is not like they were going to all of a sudden go into rebuilding mode and tank the season. There is still plenty of talent without Price and adding Balfour solidifies the back-end of the bullpen.
In fact, you can just as easily make the argument (although I don't subscribe to it) that signing Balfour makes it more likely the Rays will trade Price, since the projected payroll is now over $82 million.
One theory I do subscribe to is how keeping Price makes it more likely the Rays will be more active as sellers at the trading deadline than they are normally. The payroll is likely stretched to the max and if everything is not going well, corrections will need to be made sooner rather than later.
THE JUNKYARD DOGS WEBTOPIA…
Likes

(

0

)
Dislikes

(

0

)