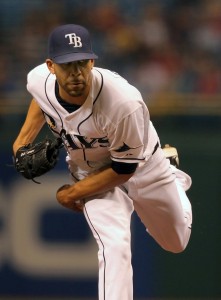 Hidden amongst the news yesterday that the Rays somehow picked up five (5!) players for a middle reliever* was the signing of Masahiro Tanaka by the Yankees. This is important because the teams that lost out on the bidding may turn their attention to David Price.
According to Jon Heyman, this list includes the Cubs, the White Sox, the Dodgers, Diamondbacks, and possibly the Astros. He also notes there may have been others.
For some teams, giving up $150 million is easier than giving up prospects, so we will see how serious any of the bidders will be. But at times in the past, both the Dodgers and Diamondbacks have been reported to have interest in Price.
* I know Alex Torres was great last year, but let's face it, he is still a middle reliever. While the Rays have missed on free agents at other positions, the one area where they always seem to find cheap talent is the bullpen. Relievers are also notorious for having a very low rate of being able to repeat big seasons. More than any other position relievers are up and down and it is hard to predict.
Here are a few odds and ends…
Likes

(

0

)
Dislikes

(

0

)