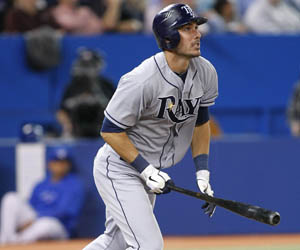 The Rays have now made all the signings official, meaning there will be no arbitration hearings for the Rays this year. Here is the full list of all seven arbitration-eligible players and what they will make in 2014, including David Price who reached an agreement yesterday:
David Price, $14.0 million
Matt Joyce, $3.7 million
Jeremy Hellickson, $3.6 million
Sean Rodriguez, $1.5 million
Jake McGee, $1.5 million
Jose Lobaton, $950,000
Cesar Ramos, $750,000
The seven players combined will make $25.95 million in 2014. They were projected to make $24.3 million according to MLB Trade Rumors.
[Update] Add Jose Lobaton to the list. He agrees to a 1-year, $950,000 contract and Cesar Ramos will get $749,750 in 2014 (per Marc Topkin).
[Update] Jeremy Hellickson and Sean Rodriguez have also avoided arbitration. Hellickson agrees to a 1-year, $3.625 million contract and Rodriguez gets a 1-year, $1.475 million deal (per Sherman).
[Update] Jake McGee has also avoided arbitration, agreeing to a 1-year, $1.45 million contract according to Joel Sherman.
[Earlier] The Rays have avoided arbitration with Matt Joyce by agreeing to a 1-year, $3.7 million contract.
This leaves five players that are still arbitration-eligible, including Jeremy Hellickson, Sean Rodriguez, Jake McGee, Jose Lobaton, and Cesar Ramos.
Hellickson ($3.3 million projected) is the only player in the group who is projected to make more than $1.5 million which makes him the mostly likely to go to arbitration. The other players will almost certainly reach an agreement with the Rays prior to today's deadline to exchange arbitration figures.
Once that deadline passes, the Rays will only negotiate long-term contracts with arbitration-eligible players.
The $3.7 million salary for Joyce is exactly what was projected by MLBTradeRumors.com, and is an increase over his 2013 salary of $2.5 million. McGee was projected to make $1.2 million. He made $500,000 last season.
Hellickson was projected to make $3.3 million and made $500,000 last season. Rodriguez made $1.0 million in 2013 and was projected to make $1.3 million through arbitration. Lobaton was projected to make $1.0 million and made $497,000 last year.
The projected payroll for the 2014 season is now at $77.0 million.
Likes

(

0

)
Dislikes

(

0

)