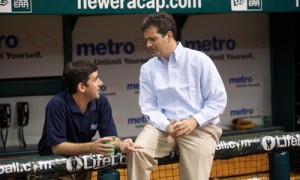 [Update] Turns out the big announcement is the Grant Balfour signing. Seems weird that Silverman would be there and not Friedman, but oh well. That was fun for a little while.
[Earlier] The Rays issued a press release today that was unusually short and secretive, referring to an announcement to be made later today.
Here is the statement:
"The Tampa Bay Rays will make a significant baseball-related announcement at the Rays 2014 Sponsor Summit."
We also know that Stuart Sternberg, Joe Maddon, and Matt Silverman will all be there.
First of all, the announcement is being made at a "Sponsor Summit." This suggests something positive. Sponsors don't want to hear bad news.
The presence of Sternberg suggests something big.
We also know it is "baseball-related," which suggests that this may not be a community-related business initiative or charity partnership.
Also, how often are Sternberg and Maddon at the same press conference? This suggests that the announcement has to do with both the team on the field and the business side of the operations.
The obvious guess at this time is that there will be a big stadium announcement. That fits all the evidence. But at the same time we have been conditioned to only expect negative news on that front.
Another guess by some might be David Price related. However, there wouldn't be a press conference to announce a deal this big before it leaked and it seems unlikely that Price would sign a long-term extension this quickly after signing his one-year deal.
Also, Andrew Friedman is not going to be at the press conference. So it seems unlikely that there is an extension for Price, or anybody else (e.g. Maddon, Wil Myers).
Maybe this is something that is not a big deal. But the "not a big deal stuff" doesn't usually include Sternberg and is almost always laid out in more detail in the press release.
Does anybody have any other guesses? Let's hear them.
Likes

(

0

)
Dislikes

(

0

)