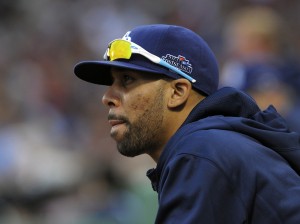 Not much has changed in the David Price rumor mill. The Seattle Mariners remain the favorite at this point, but other teams are still interested.
One team that was expected to be a big contender for Price may be dropping off the radar. According to Dylan Hernandez of the L.A. Times, the Dodgers are interested but are not going to aggressively pursue Price. Rather, the Dodgers have simply told the Rays to keep them in mind if they decide to deal their Ace. Hernandez adds that a trade is a long-shot as the Dodgers top prospects are not close to the big leagues.
Ken Rosenthal of FoxSports.com calls the Dodgers one of four teams that are clearly interested in trading for Price (also the M's, the Diamondbacks, and the Rangers). However, Rosenthal says that the Dodgers have now shifted their focus to player development and that would suggest that they would prefer to not trade their top prospects. In other words, don't expect a trade with the Dodgers, unless they are just slow-playing their hand at this point.
Jim Bowden also chimes in (behind ESPN's Insider paywall). He says the Braves have shown interest in trading for Price, in addition to the four teams named above by Rosenthal. Bowden speculates that the Diamondbacks could be the winning bidder if they are willing to part with pitching prospect Archie Bradley, the 7th overall pick in the 2011 draft.
Meanwhile, most signs point back to the Mariners. one executive told Bill Shaikin of the L.A. Times, that they are "convinced" the Mariners will acquire Price now that they have Cano. The big piece in a potential Mariners deal would be pitching prospect Taijuan Walker. Jon Heyman spoke to two general managers who said they would not trade Walker for Price. However, the Mariners have shown a willingness to move Walker as they nearly traded him last year for Justin Upton.
THE JUNKYARD DOGS WEBTOPIA…
The Rays officially announced their deal with Juan Carlos Oviedo. It is a 1-year deal for $1.5 million. That means the Rays saved $470,000 when they bought out his 2014 option for $30,000.
Kelly Johnson has signed with the Yankees (1 year, $3 million) and is now in line to replace Robinson Cano. [Buster Olney]
The Marlins need a third baseman and Sean Rodriguez is on their short list according to Joe Frisaro of MLB.com. [Fish Pond]
Andrew Friedman was recently on 620 WDAE to talk about the Winter Meetings that begin today. [RaysRadio]
The city of St. Pete has hired an attorney that has experience dealing with the Minnesota Twins and their potential contraction in 2001. The lawyer is expected to serve as an adviser in negotiations with the Rays. [TBO.com]
The Rays are now offering Flex Packs in which you essentially buy tickets for 3, 6, or 9 blank tickets and decide later which games to attend. There is a big discount off the face value and you can wait until the day of the game to decide which to attend. [TBO.com]
Sam Fuld is receiving "lots of interest" as a free agent. [TampaBay.com]
We mentioned earlier that Scott Kazmir signed with the A's. The A's then made this cool Vine. [Vine]
Likes

(

0

)
Dislikes

(

0

)