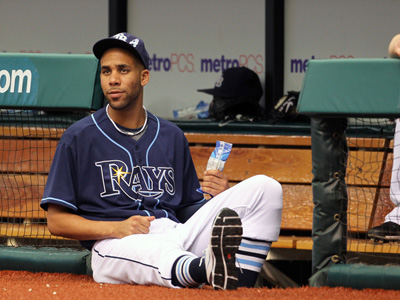 Here is a classic example of how baseball rumors get out of hand.
Terry Pluto of the Cleveland Plain Dealer mentioned in a column that the Indians called the Rays about David Price.
"Yes, the Tribe did check on David Price…When the Tribe talked to Tampa Bay, names mentioned by the Rays were Carlos Santana and Danny Salazar…I was told those two were starting points, and the Rays also wanted some top minor league prospects. I heard Francisco Lindor's name also was mentioned."
To me, that sounds like the Rays wanted either Santana or Salazar, not necessarily both. Notice that "starting points" is plural. And who knows what the source's actual wording was. But then, just two paragraphs later, Pluto assumes the package would have to include all three.
"From the Tribe's point of view, dealing Santana, Salazar and a top prospect such as Lindor for a pitcher likely to leave after two years is a lousy deal."
Of course, that assumption was good enough for some to just accept it as fact. One website ran with a title "The Rays demanded the world from Cleveland for David Price." Of course, details and facts have never been Craig Calcaterra's specialty.
A Rays source for Marc Topkin quickly debunked the rumor and the Rays never comment on rumors. So that should tell you how far off the original speculation was.
Heard from Rays source that Cleveland report on Price trade talks including Indians Santana, Salazar and more was "completely off-base"
So there ya go.
THE JUNKYARD DOGS WEBTOPIA…
The Rays are now selling "players and pooches" calendar at the Pet Pal Animal Shelter and Pet Pal Veterinary Clinic, the Rays Team Store at Tropicana Field and the Rays Pro Shop and Sales Office in Tampa. The calendar will include Joe Maddon, Evan Longoria, David Price, Wil Myers, Desmond Jennings, Jake McGee, Matt Moore, Alex Cobb, Jeremy Hellickson, Brandon Gomes, Matt Joyce, and Tom Foley. Let's hope Price is January, otherwise it could get awkward later in the year. All proceeds from the sales will go to Pet Pal Animal Shelter. The calendar costs $15.
Marc Topkin reports that the Rays are showing interest in both Jamey Carroll and Mark Reynolds. Carroll is a plus-defender that can play 2B, SS, or 3B. In 73 games last season with the Twins and Royals, he hit .211 with a .267 OBP and no home runs. He will also be 40 years old next season. Reynolds is a corner infielder who hit .220 with a .306 OBP and 21 home runs for the Indians and Yankees last season. [Marc Topkin]
Jon Heyman notes that the Yankees, Angels, Twins, and "others" are also interested in Mark Reynolds. [Jon Heyman]
Jon Heyman also says the Rangers and Indians are two other teams interested in Jamey Carroll. [Jon Heyman]
The Braves are probably no longer interested in David Price with David O'Brien noting their payroll constraints. [AJC.com]
Former Bucs tight end Anthony Becht to a bit of a shot at the Rays: "They have the huge year when it counts at contract time, and then they have one, and then you go push them away. I mean, we're not the Rays, right? We're not pushing talent away; we can afford some of these guys." [JoeBucsFan]
Likes

(

0

)
Dislikes

(

0

)