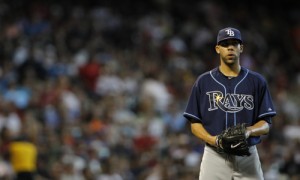 The Seattle Mariners appear to be ready to make at least one big off-season splash and David Price may be at the top of their wishlist. The Rays are also reportedly doing extra homework on the Mariners top prospects.
According to Jeff Passan of Yahoo! Sports, the Mariners are one of several teams that believe they have the right players to put together a package to acquire Price. The other teams named are the Dodgers, Angels, Pirates, Rangers, Diamondbacks, and Blue Jays.
The Mariners may be an especially attractive trade partner as they appear to be willing to include young right-handed pitcher Taijuan Walker, Seattle's first-round pick in the 2010 draft.
The Rays are also increasing their research on Walker and some other prospects in the Mariners' organization according to Ryan Divish of the Seattle Times. In total, the Rays are looking at five Mariners players. In addition to Walker, the Rays are also researching left-handed pitcher James Paxton, second baseman Nick Franklin, infielder Brad Miller, and utility man Dustin Ackley.
Peter Gammons spoke with "some GMs" who told him "there is validity" to a potential trade between the two teams, with the Rays receiving Walker, Franklin, and another prospect. However, he added that other GMs told him the M's won't trade Walker.
Divish did note that Walker was previously considered "untouchable." However, he says that feeling appears to have changed.
Sources also told Passan that the Rays would also be willing to accept an established big leaguer with a team-friendly contract as part of a trade package for Price.
Walker, 21, was ranked as the 18th best prospect in 2013 by Baseball America. In 25 starts at double-A and triple-A in 2013, Walker had a 2.93 ERA with 160 strikeouts in 141.1 innings. Walker also made three starts for the Mariners. Miller has a career .334 batting average and .409 OBP in 219 minor league games.
Most of the speculation surrounding a potential Price trade has centered around the Texas Rangers and Jurickson Profar. However, considering the presence of Yunel Escobar and his reasonable contract, the Rays would probably prefer to go in a different direction if another team offers a package with a similar value.
Likes

(

0

)
Dislikes

(

0

)