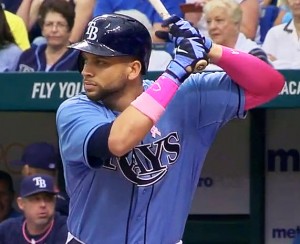 [UPDATE] Jeff Passan says he is hearing that Loney is looking for a 3-year contract that will pay $9-10 million per season. So yeah, the Rays are not going to come close to that.
[EARLIER] The Rays are hoping to bring back James Loney to fill first base. But at least one other team has him on their wishlist which will likely make Loney too expensive for the Rays.
According to Jayson Stark, clubs that have spoken with the Pirates "believe James Loney [is] emerging as their top choice at [first base]."
Meanwhile, Rays president Matt Silverman told 620 WDAE (via TampaBay.com) that the team is still interested in re-signing Loney and "hopeful" that it will happen. However, Silverman also made it clear that they will not be able to match the offers from other teams and hope Loney will take less to stay in St. Pete.
"…we're a known quantity. When he's thinking about other things out there, he won't know what the other clubhouses are like, he won't know what it's like living in that city. And so that gives us a little bit of an advantage. Our wallet isn't as big as other teams', so that's one disadvantage for us…But I'm hopeful that he can be here."
It has gotten to the point where the Rays are successful enough and the clubhouse chemistry has a strong enough reputation that some players will take less to sign or re-sign with the Rays. But there are limits to discounts for both the players and the players' union.
If other teams are offering a player $7 million per year, that player may take $6 million per year from the Rays. But that same player is not going to take $3 million per year, no matter how awesome Joe Maddon is (and he is pretty awesome).
Also possibly complicating matters with Loney is that he recently switched agents and is now represented by the same agency (The Legacy Agency) that represents Carl Crawford. They may not be Scott Boras, but they do like to get top dollar for their clients.
So if the Pirates are serious about Loney and other teams (Rockies?) get in on the bidding, things are going to get out of hand fast. That means we have probably seen the last of Loney in a Rays uniform and it is time to start looking at back-up plans.
Likes

(

0

)
Dislikes

(

0

)