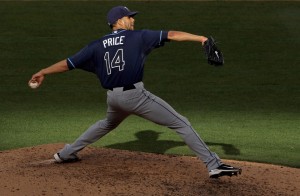 David Price is the biggest story at the Winter Meetings this week in Orlando and everybody wants to know if he will be traded and who will win the bidding.
One general manager told Ken Rosenthal that the Dodgers are in the best position to land Price. The GM's "theory" is that the Mariners will not be willing to trade their top pitching prospect, Taijuan Walker, and the Diamondback will not be willing to trade their top pitching prospect,  Archie Bradley.
This has been a common sentiment expressed by people not associated with either team. Even the Mariners GM said yesterday that he "expects" Walker to still be with the Mariners in 2014.
The problem with this theory is that nobody thought the Royals would be willing to trade Wil Myers a year ago and then they did. Expectations change when desperation sets in. Also, the Mariners offered Walker to the Diamondbacks last winter when they tried to trade for Justin Upton.
Meanwhile, things have been very quiet with respect to the Rangers' interest in Price. And now Rangers general manager Jon Daniels says his team "isn't actively looking to trade for a top-of-the-rotation starting pitcher" according to Evan Grant of DallasNews.com.
The Rangers never felt like a good fit with the Rays and for now they appear to be out of the mix.
Buster Olney took a poll of "three execs" and asked them where they think Price would be traded. All three said Seattle.
At this point, it still looks like the Mariners have a big lead over the other teams. They have to add one or two more players to justify the Robinson Cano signing. Of course they don't want to give up Walker and will try to do a deal without him. But Friedman is the most patient GM in the game, and eventually the Mariners will cave.
That is, unless the Diamondbacks cave first.
Likes

(

0

)
Dislikes

(

0

)