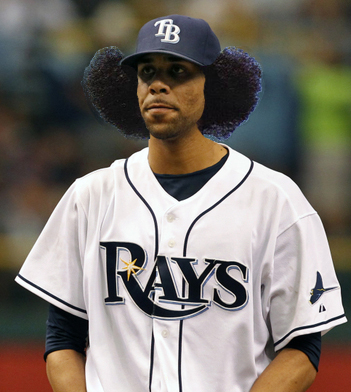 Last we heard, David Price would not sign an extension with the Mariners, but Seattle is still a potential trade partner. Arizona and the Angels may no longer be interested after trading with each other. The Dodgers want to develop their minor leaguers. And the Rangers are not interested in trading for a starting pitcher.
Now let's check in on the latest.
We mentioned this Jayson Stark column already, but there were a couple of nuggets we forgot to mention. He says the Padres and the Cubs could be surprise contenders to land Price. Stark mentions that the Padres "scouted Price heavily" this season and the Cubs recently hired Price's pitching coach from college.
Stark also mentions the Angels, Tigers, Blue Jays, and Phillies as long shots to make a deal but notes that those teams are unlikely to have the prospects necessary to get a deal done.
Ken Rosenthal says the Blue Jays have inquired about Price but consider the price to be too high. Does anybody at this point think they can get a discount trading with the Rays?
Buster Olney adds the Giants to the number of teams that have asked about Price but the two sides have not started any negotiations.
Jon Heyman spoke to the GMs for both the Dodgers and Rangers and both called a potential Price trade "unlikely" (Heyman's word). Heyman added that the Mariners have a "real opportunity" to trade for Price. Ken Gurnick adds that Dodgers GM Ned Colletti said he "is not chasing any starting pitchers" which is slightly different than "is not trading for any starting pitchers."
In fact, Bruce Levine has a source that says the Rays and Dodgers "may be matching up on Price" suggesting a deal could be close.
Heyman also says Mariners top pitching prospect Taijuan Walker "looks untouchable" which is slightly different than "is untouchable." Remember, Wil Myers was thought untouchable at one point. The Rays will simply wait until Walker is touchable. And if that never happens, a deal is unlikely.
Previously we mentioned that the Mariners had offered Walker to the Diamondbacks last year for Justin Upton. Heyman says the Mariners now regret making that offer. Heyman also says the Mariners believe they can get Price if they will include Walker. The Mariners would prefer to build a trade around position players.
Joel Sherman of the New York Post was told by a pair of executives that the Rays are likely waiting for teams that fail to land their first or second choice of starting pitchers and to get desperate.
Finally, Ted Berg of USAToday.com proposes a wild 3-way trade between the Rays, Dodgers, and Mariners that is so crazy it could actually be in the neighborhood of plausible. I suspect the Rays would want 2-3 more low-level prospects before giving up Price and Jeremy Hellickson. But you guys know I am kinda down on Helly and wouldn't mind seeing him traded.
Teams reported to have shown interest in Price at some point: Mariners, Dodgers, Braves, Rangers, Diamondbacks, Blue Jays, Giants, Padres.
Teams speculated to have interest: Angels, Cubs, Tigers, Phillies.
Likes

(

0

)
Dislikes

(

0

)