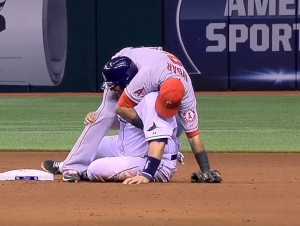 The Rays are expected to formally announce a new deal for Jose Molina this week and according to Marc Topkin it will be a 2-year deal and Molina will make $1.75 million in 2014 and $2.75 million in 2015 ($4.5 million total).
I do understand what Molina brings to the table and why he is valuable. But I do worry that some of that value is overstated and that an overweight player that will turn 39 in 2014 is going to decline quickly.
According to BaseballProspectus.com, Molina had one of the best seasons in the last 25 years in 2012 when he "saved" 25 runs with his pitch framing. In fact, another calculation put the number as high as 50 runs. In 2013, BaseballProspectus.com once again had Molina saving approximately 25 runs by getting umpires to call more strikes than they should have.
But at the same time, Fangraphs.com said the Rays only received about 2 extra strike calls per 1,000 pitches in 2012, well behind the Brewers and Braves who each had 11 extra strikes per 1,000 pitches. Unless Jose Lobaton is just really, really, bad at framing pitches, that means Molina is not really getting the pitching staff that many extra calls. In other words, nobody is really sure how valuable a catcher is when it comes to framing pitches.
Overall, the pitching staff's ERA in 2013 was nearly identical with Molina (3.74) as it was with Lobaton (3.73). It was also nearly identical in 2012 (3.22 with Molina, 3.24 with Lobaton).
There is also the concern of Molina's reputation as a pitch-framer. Nobody likes to be duped, and that is especially true of ego-maniacal umpires who are being graded on how well they call strikes. Molina is a nice, so that helps. But at some point, you have to worry that umpires are going to stop giving Molina the benefit of the doubt because he is making them look bad.
Don't get me wrong, for all the negative of Molina (slow, passed balls, etc.), he is a plus-defender. But he is also a negative-bat. The result is that Molina was worth just 0.2 WAR on 2013, down from 0.8 WAR in 2012. And oh yeah, he is going to be 39 next season. The Rays obviously like Molina and their numbers must paint a prettier picture than I am seeing. That, combined with his cost (very little), made Molina's age a gamble worth taking. But even if Molina doesn't regress, he is not going to win the Rays many games which is why the move is puzzling. There is a lot of risk for very little reward.
THE JUNKYARD DOGS WEBTOPIA…
Likes

(

0

)
Dislikes

(

0

)