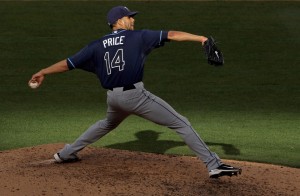 Peter Gammons raised some eyebrows with a column that led many to think that the Dodgers have a plan in place to trade for David Price, suggesting that a move was only a matter of time. But what Gammons really wrote was far from that.
Gammons spoke with "industry sources," specifically a couple of general managers, who speculated on what the Dodgers might try to do this off-season including trading for David Price. One of the anonymous general managers suggested a specific package of prospects that would "get it done."
"They have the minor league talent to get Price…If they would trade Corey Seager and Julio Urias (the 17-year old lefthanded pitcher) and a couple out of Zach Lee, Joc Pederson or Chris Withrow, it would get it done."
Of course, none of this means anything. These anonymous GMs don't know what the Dodgers' plan is. They don't what the Rays would want in a trade and certainly have no idea if the Dodgers would offer that package or if the Rays would accept it. About the only thing we learned from this is that there is at least one GM out there that thinks the Dodgers have some good players in their system. Of course, we have no idea if that GM is good at his job, so even that is somewhat meaningless.
In other words, nothing to see here, folks.
THE JUNKYARD DOGS WEBTOPIA…
The Rays picked up the 2014 options for Ben Zobrist ($7 million), Yunel Escobar ($5 million), and David DeJesus ($6.5 million).
Marc Topkin reports that the Rays and David DeJesus may be in discussions for a long-term deal. [Marc Topkin]
Ken Rosenthal explains why the market is in the right spot for the Rays to get a great package in return for David Price. But will the Rays ask for too much? "The Rays' biggest obstacle, as they entertain offers for Price, might be their own expectations — they surely will want to beat their return for Shields, and not by a little." [Fox Sports]
Nick Cafardo of the Boston Globe says both the Dodgers and the Angels are interested in trading for David Price and wonders if Mark Trumbo or Howie Kendrick could be part of the package. [Boston.com]
One Dodgers website says the price for David Price is just too high. [MikeSciosciasTragicIllness]
BRaysball Talk takes a look back at the 2013 season. [BRaysball Talk]
Derek Jeter got a raise after the worst season of his career. The Yankees didn't have to do it, but there was a very good reason why they did. [BI Sports]
Kinda weird how similar the career earnings of Derek Jeter and Kobe Bryant are. [BI Chart]
76 baseball "experts" went 0-152 predicting which teams would play in the World Series. [BI Sports]
Unless you think the Bucs want to make a run at Lovie Smith before other teams do this off-season, I'm not sure what the upside is to firing Greg Schiano now. [JoeBucsFan]
Likes

(

0

)
Dislikes

(

0

)